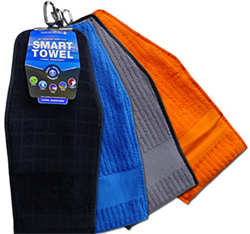 Toronto, Ontario (PRWEB) February 27, 2014
Goose Golf is excited to announce that 2013 was a trend setting year for the brand with continued growth of their innovative wet/dry golf towels throughout the North American marketplace, as well as the progress of their newest golf accessory, the Gravity Brush. "We've learned a lot over the past few years as our products have grown in popularity," said Daniel York, owner of Goose Golf. "We're excited for the 2014 season and what we have planned for the Goose Golf brand. We want to continue to push the envelop not only by improving our existing products but also by introducing new ones, such as the Gravity Brush."
The 2014 Goose Towel includes a revamped design, which maintains the same wet/dry functionality but now offers a designated area for logo customization. Goose Golf expects this new feature to expand their popularity with tournament organizers and corporate event planners. Along with this new design, Goose Golf has also added two new and vibrant color options to the pallet, Electric Orange and Royal Blue. "I'm looking forward to hearing the feedback from the golf community relating to the recent enhancements we've made," said Daniel York.
Goose Golf is also looking forward to the continued growth of their recently launched and patent-pending golf accessory, the Gravity Brush. The innovative club cleaning tool was launched in the fourth quarter of 2013, and has already made significant headway. Currently available nationwide in all PGA Tour Superstore locations, Goose Golf expects the Gravity Brush to make significant headway in 2014 by getting listed in several more golf retail locations.
About Goose Golf Solutions
Goose Golf is a North American manufacturer of high quality golf accessories. With the success of the innovative Goose Towel, and now the launch of the Gravity Brush, Goose Golf continues to produce high quality golf accessories that stay true and pure to the game. Find out more at: http://www.goosegolf.ca.