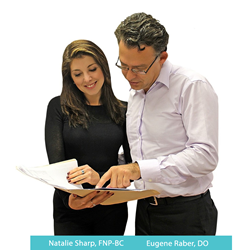 Glen Cove, NY (PRWEB) February 28, 2014
Natalie Sharp, RN FNP-BC knows that being on the cutting edge of technology in the medical field is important. She recently rebranded her entire practice to include new equipment and services, a new name, and a new website!
Pure Vitality Rx, previously known as Pure Aesthetic, is now an aesthetic, anti-aging, and weight loss center for both men and women. She offers a wide variety of services including laser treatments, IPL photofacials, hair removal, chemical peels, Dermapen treatments, injectables such as Botox and Dysport, and testosterone replacement therapy. She also has multiple medically supervised weight loss programs available.
She recently added two new state-of-the-art machines that are designed to help reduce the signs of aging. The SilkPeel Dermalinfusion System is the only treatment of its kind to combine non-invasive exfoliation with deep delivery of topical solutions specific to the needs of your skin. These serums contain antioxidants, hyaluronic acid or salicylic acid for acne, without the use of crystal or other chemical exfoliants, to help reduce dry skin or excessive oiliness and to correct uneven skin tone.
The other new service uses the Emerge Laser System. Emerge laser skin resurfacing smoothes out undesirable skin imperfections on the face and body, including large pores, sun damage, fine lines, wrinkles, and scarring. The Palomar Icon System for Intense Light Pulse Photofacials (IPL) is another option for many of these skin conditions and can also help treat rosacea and reduce age spots, freckles, and broken capillaries. IPL is known to stimulate collagen production as well, which can help ward off wrinkles and other signs of aging.
To complement and represent her new practice, Natalie Sharp asked MD Marketing Experts to re-brand Pure Vitality Rx and create a new website. The new website contains separate sections for men's and women's services, full galleries for all of her services and products, and articles where patients can learn more about the weight loss and anti-aging programs available.
To celebrate her new digital facelift, she is offering new clients a free consultation until March 31st. Visit her website or call (516) 200-9722 to see how Pure Vitality Rx can help you recapture the youthful, vibrant, and healthier version of you!
Natalie Sharp, FNP-BC
3 School Street Suite #208‎
Glen Cove, NY 11542
(516) 200-9722
http://www.purevitalityrx.com
http://www.mdmarketingexperts.com