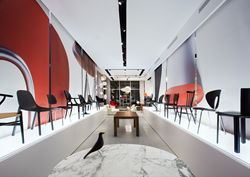 "Our new Studio on East 57th Street is our best example yet of how DWR makes authentic modern design accessible. It's pure New York, it's pure modern, and we couldn't be more thrilled," says DWR President and CEO John Edelman.
Stamford, CT (PRWEB) February 27, 2014
Design Within Reach, Inc. (DWR), today announces the opening of its new Studio on the corner of East 57th Street and Third Avenue in New York. With four floors comprising 20,000 square feet, the new space is located in proximity to the Architects & Designers Building and the Decoration & Design Building and is the largest of the company's four New York locations. It replaces the former Studio on East 62nd Street.
Founded in 1998, Design Within Reach made modern design accessible to the U.S. market through its groundbreaking catalog and e-commerce site. DWR has evolved into a destination not only for its exclusive collection of modern furniture and accessories from designers such as Milo Baughman, Jeffrey Bernett and Norm Architects but also for the authentic midcentury classics from Emeco, Fritz Hansen, Herman Miller®, Knoll® and other brands it has offered for years.
In the past three months, the company has opened new Studios in three major U.S. cities: Los Angeles, San Francisco and New York. The larger showrooms feature room vignettes that allow customers to envision how to live with authentic modern design and reflect the company's growing partnerships and product development.
The new East 57th Street Studio features 28 such vignettes, which blend authentic modern classics with DWR-exclusive collections; multiscreen Media Walls on two levels, which introduce the DWR Textiles line of fine Italian fabrics exclusive to DWR in a short film by 2x4; the Dining Test Lab, where customers may test-drive any chair at the table of their choice; displays of workspace and café solutions for home and business; an extensive assortment of outdoor collections for lounging and dining; and The Apartment, a cutaway New York pied-à-terre that playfully evokes the incidental voyeurism of high-rise living. "Our new Studio on East 57th Street is our best example yet of how DWR makes authentic modern design accessible. It's pure New York, it's pure modern, and we couldn't be more thrilled," says DWR President and CEO John Edelman.
On the West Coast, DWR West Hollywood Studio moved to a brand-new 10,000-square-foot building at 8612 Melrose Ave., just around the corner from the Pacific Design Center and within the La Cienega Design Quarter and the West Hollywood Design District, while DWR San Francisco relocated to a brand-new 20,000-square-foot showroom at 200 Kansas St. in the San Francisco Design District. Unique to the San Francisco Studio is the DWR Garden, a sculptural installation designed by Sayigh+Duman and comprised of dozens of Planterworx planters landscaped by Vallier Design Associates with flora that naturally thrive in the Potrero microclimate.
Signature architectural elements of DWR unite each new location: a floating Light Cloud of varied lighting pendants welcomes guests into the space; a Swatch Wall of upholstery tiles from Maharam, Knoll®, Edelman® Leather and Spinneybeck® illustrates the hundreds of customizable options available; a light gallery showcases the top wall sconces, table lamps, task lamps and outdoor lighting; and a private showroom lends space for designers and clients to meet, build 3-D room renderings of their plans and research additional product options not on view in the Studio.
DWR continues its alliance with New York-based architecture group Sayigh+Duman to bring these Studios to life and with Light Studio LA on architectural lighting. It also continues to collaborate with NYC-based design firm 2x4 to expand its approach to branding through interior and environmental design. James Ritman of Newmark Grubb Knight Frank is representing the company's future retail expansion efforts.
Design Within Reach, Inc., founded in 1998 and headquartered in Stamford, Conn., is the source for the best in authentic modern design. The company markets and sells its furniture and accessories to both residential and trade customers through its 40 retail Studios in North America, http://www.dwr.com and its Connecticut-based phone sales team at 1.800.944.2233. For inquiries regarding DWR Contract, visit http://www.dwrcontract.com.
For additional images and information, contact Kim Phillips at pr(at)dwr(dot)com.