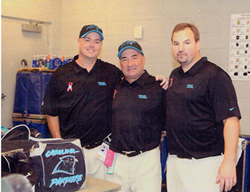 Charlotte is experiencing growth in both residential and businesses relocating to our great city," says Todd Koepke, co owner of T-N-T Moving Systems -- Todd Koepke
Charlotte NC (PRWEB) February 27, 2014
With the growth and expansion of new businesses moving to the Charlotte community, T-N-T Moving Systems announces a new corporate relocation program. As the Official Movers of Charlotte's NFL team the Panthers, T-N-T Moving Systems is expanding their reach to corporate relocation moves assisting both the company and the employee through the transition of moving to Charlotte.
"Charlotte is experiencing growth in both residential and businesses relocating to our great city," says Todd Koepke, co owner of T-N-T Moving Systems. "As a company who's been serving the community for over 20 years, moving small to medium size companies, we now want to bring our expertise to the larger company as well as to their employees.
"Corporate Relocation Services often lack the personal attention we provide at T-N-T," said Tom Tulowiecki, co-owner. "We are well-equipped with large trucks and trusted employees to handle big company moves or individual employee relocations.
According to the Census Bureau, nearly 5.1 million people moved to a new state last year. That's a 17 percent increase from 2010 and the highest level since 2006. T-N-T Moving Systems is hoping to impact that market with their new corporate relocation service to and from Charlotte.
"Company's move people in and out of Charlotte to anywhere in the country every day," says Tulowiecki. "We offer insurance, moving supplies, packing and storage services to help customers get ready to move, and then relocating their belonging to their next home. We also are specialists in moving large, susceptible item like pianos and custom cars.
Recently, T-N-T was featured in the Charlotte Panther's Magazine, Roar. The article detailed the great working relationship the team has had with T-N-T. They move the teams' entire equipment to every away game and to their training facilities in the off-season.
Charlotte moving company, T-N-T Moving Systems, handles both local and long distance moves and has seen an increase in customers in the last year. "We cross country all season long with the Panthers, so we are used to the long haul jobs," said Keopke. With the real estate market in Charlotte still on the rise, T-N-T Moving Systems is hoping to attract both residential and corporate relocation opportunities in 2014.
For a complete list of moving services offered by T-N-T, visit their website at http://www.tntmoving systems.com. For a free estimate or consultation, individuals and companies can contact Todd Koepke or Tom Tulowiecki 704-523-1455.