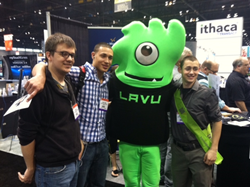 We have witnessed the advancement from traditional terminals to cutting edge tablet POS - Jake Klinvex, COO Loyaltree
Albuquerque, NM (PRWEB) February 27, 2014
The National Restaurant Association, or NRA, is the place to showcase any new product that will benefit the Food and Beverage industry. This is why Lavu Inc. chose to attend some four years ago. Lavu Inc. introduced software focused around tablet and cloud based technology that was going to help a restaurant cut the cord and bring businesses into modern mobility. A paper order pad became an iPad or iPod and this gave the wait staff the ability to easily take an order from the table and send it to the kitchen printer wirelessly. Since then Lavu iPad POS has led the way with kitchen display systems, online ordering, chain-level management function and other advanced features to serve all areas of food and beverage. The goal was to set an affordable industry standard as one of the first tablet based point of sale applications. Many in the industry are noticing the trends in tablet technology and have recently started offering tablet solutions of their own.
Jake Klinvex, COO of LoyalTree, a popular loyalty program in the industry, noted "We also began in 2011, and we have witnessed the advancement from traditional terminals to cutting edge tablet POS. Lavu has always been the champion for this technology adoption."
Lavu Inc. will be present once again at the 2014 NRA conference to showcase new features as well as demonstrating the Lavu iPad POS Pizza Mod, Customer Database, the menu icon generator, and the new overhauled in-depth reporting experience. Additionally the Lavu Pilot application will still function to supply real time reporting as a mobile app for managers and owners on the go.
Growing businesses use Lavu iPad POS as an affordable, reliable solution with a modern look. Shake Smart, a location using Lavu iPad POS recently expanded to six locations. President of Shake Smart Kevin Gelfand said, "When it came time for expansion, Lavu iPad POS was not only great for the price point, but also easy to duplicate for different locations." Gelfand continued, "The growth of our business would not be possible without Lavu iPad POS."