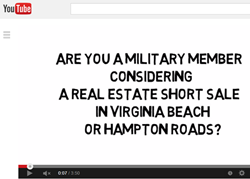 Dennis, you do not know how much you have helped me and my son with this short sale. Thanks, TM
Virginia Beach, VA (PRWEB) February 28, 2014
A military short sale with a deficiency waiver approval is an extremely effective way for our armed forces to get a fresh-start from their underwater mortgage in Virginia Beach and Hampton Roads. This program will not last forever and taking advantage now will help military personnel alleviate financial hardship.
Military personnel often are burdened with a transfer or other hardship that makes home ownership very stressful and many times dividing families between locations. Constant changing short sale guidelines by lenders causes frustration to military members but most just need an experienced military short sale program real estate team. An experienced short sale team will ensure the process is successful in the least amount of time and the ultimate goal of obtaining a deficiency wavier approval.
A military short sale with deficiency waiver approval enables the military member to "exit" the mortgage without owing any more monies to the lender. The amount makes no difference as it can be very little or hundreds of thousands of dollars. The recent article on "Why Military Personnel Should Short Sale" elaborates more on details and eligibility.
Of utmost importance is having an experienced military short sale team which includes the REALTOR(R), Attorney, and home owner who collectively work together to ensure a successful sale, processing of paperwork, negotiations, and ultimately the signing of documents eliminating the short sale deficiency. Recently in 2013, Dennis Blackmore completed over $500,000 in military short sales resulting in deficiency waivers to the member and family. Dennis' previous 24 years in the military provides an unique understanding of the needs and concerns of our nation's finest serving their country.
Those military personnel considering a short sale should consult with an attorney to understand their legal options before moving forward with the selling transaction. This exactly why we use an Attorney with all our short sales - read more here.
There is no stigma with doing a short sale. Military members serve their country and have the option to take advantage of this limited time program.
Dennis Blackmore, REALTOR(R)/Agent Owner with Creed Realty Virginia Beach serves all of the greater Hampton Roads area. He is a retired Naval Officer who understands the needs of our military personnel and their families.