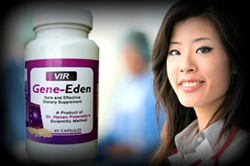 We believe that women should talk to their doctors about Gene-Eden-VIR. This natural product was proven safe and effective in a recent post-marketing clinical study. – Mike Evans, polyDNA
Rochester, NY (PRWEB) March 06, 2014
Most people do not realize that more women than men die of heart disease each year. In fact, "Despite increases in awareness over the past decade, only 56 percent of women recognize that heart disease is their No. 1 killer." (See the CDC, last updated February 3, 2014)(2). Even more people do not realize that some types of heart disease in women can be caused by an infection with a virus. As the Mayo Clinic notes, heart infections, such as pericarditis, endocarditis and myocarditis, are caused when a virus reaches the heart muscle. (See the Mayo Clinic from January 16, 2013) (3). polyDNA therefore recommends that women speak to their doctors about Gene-Eden-VIR. This natural antiviral product was proven to reduce viral symptoms in a post-marketing clinical study that followed FDA guidelines.
Inflammation of the heart muscle is most commonly caused by a virus. "The virus invades the heart muscle to cause local inflammation. After the initial infection subsides, (when the virus established a latent infection) the body's immune system continues to inflict inflammatory damage to the heart muscle. The most frequent symptom of myocarditis is pain in the chest. When myocarditis is more serious, it leads to weakening of the heart muscle. Myocarditis can then cause heart failure (with symptoms of shortness of breath, fatigue, fluid accumulation in the lungs, etc.) as well as heart rhythm irregularities from inflammation and/or scarring of the electrical system of the heart." (See MedicineNet.com, last reviewed on December 12, 2013) (4).
What types of viruses are responsible for heart damage?
Heart infections can be caused by many different viruses including "some that cause influenza (coxsackievirus B and adenovirus), a rash called fifth disease (human parvovirus B19), gastrointestinal infections (echovirus), mononucleosis (Epstein-Barr virus) and German measles (rubella). Viruses associated with sexually transmitted infections also can travel to the heart muscle and cause an infection." (See MayoClinic.com, from January 16, 2013) (1).
"We believe that women should talk to their doctors about Gene-Eden-VIR. This natural product was proven safe and effective in a recent post-marketing clinical study." – Mike Evans, polyDNA
A post marketing clinical study published in September 2013 in the medical journal Pharmacology & Pharmacy, in a special edition on Advances in Antiviral Drugs, showed that Gene-Eden-VIR is safe and effective (5). Additionally, up to 70% of those studied reported a decrease in viral symptoms (5).
Each ingredient of Gene-Eden-VIR was chosen through a scientific approach. Scientists scanned thousands of scientific and medical papers published in various medical and scientific journals around the world to identify the safest, most effective natural ingredients that target latent viruses (5).
To learn more about Gene-Eden-VIR, visit: http://gene-eden-kill-virus.com. All orders of Gene-Eden-VIR are completely confidential, and no information is shared or sold to any third party. Privacy is assured.
Reference:
(1) Heart disease in women: Understand symptoms and risk factors. Published on February 13, 2014.
http://www.mayoclinic.org/diseases-conditions/heart-disease/in-depth/heart-disease/art-20046167
(2) CDC Features - Women and Heart Health Awareness. Last updated February 3, 2014.
http://www.cdc.gov/Features/WearRed/
(3) The Mayo Clinic - Diseases and Conditions - Heart Disease. Published January 16, 2013.
http://www.mayoclinic.org/diseases-conditions/heart-disease/basics/causes/con-20034056
(4) MedicineNet.com - Myocarditis. Reviewed on December 12, 2013.
http://www.medicinenet.com/myocarditis/article.htm
(5) Gene-Eden-VIR Is Antiviral: Results of a Post Marketing
Clinical Study. Published in September 2013.
http://gene-eden-kill-virus.com/PP_Gene-Eden-VIR-is-Antiviral.pdf
polyDNA is a biotechnology company that develops dietary supplements using the unique scientific method developed by Dr. Hanan Polansky, which is based on Computer Intuition.
In addition to his unique scientific method, Dr. Polansky published the highly acclaimed scientific discovery, called Microcompetition with Foreign DNA. The discovery explains how foreign DNA fragments, and specifically, DNA of latent viruses, cause most major diseases.
polyDNA developed Gene-Eden-VIR , an antiviral natural remedy that helps the immune system kill latent viruses.