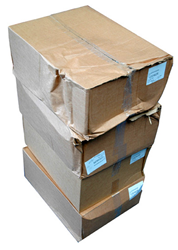 Davpack is encouraging businesses to call in for free expert advice, in a bid to help UK companies reduce their damaged parcels.
(PRWEB UK) 28 February 2014
Startling figures obtained through a Freedom of Information request have laid bare the full extent of damaged and stolen parcels sent via the Royal Mail, the clear market leader in UK parcel delivery. Between 2009 and 2012, over £20 million was paid out in compensation by the organisation, and almost 3.75 million complaints were logged.
On the assumption that only a proportion of customers actually complain and seek compensation, packaging suppliers Davpack believe these statistics probably only represent the worst damages and actual losses. In fact, they estimate that the problem is much bigger, and is likely to be affecting well in excess of 10 million parcels every year.
With UK online sales hitting unprecedented levels - a record £10.1 billion in November 2013, up 10% on the same period the previous year - Davpack predicts that the problem is only set to get worse, with a corresponding increase in damages and losses, unless action is taken.
"We were shocked to discover the extent of damages in the UK parcel delivery market," says Davpack's Managing Director, Barney Byfield. "As one of the leading online packaging supplies companies in the country, we know about the cost of correcting problem deliveries and the importance to the customer of getting their goods delivered right first time. Four million parcels is just the tip of the iceberg, and the cost of returns, replacements and compensation will likely run into tens of millions of pounds a year."
Following investigations into common damages inflicted on postal and cardboard boxes, Davpack has identified what it is calling the '5 damaged parcel horrors' and has now set about tackling them. The company is encouraging businesses to call in for expert advice, in a bid to help UK companies reduce their damaged parcels.
According to Davpack, companies should review their packaging using a 'handle without care' principle. "We see all sorts of damage issues affecting customers," continues Mr Byfield. "Sometimes those damages are the result of the package being handled roughly by a courier or whoever else has been entrusted to handle or deliver it. Too often, though, it is also the result of goods being poorly packaged in the first place, or the packer being too optimistic about the amount of handling likely to be required to get the parcel from A to B."
According to Davpack, the most common five damaged parcel horrors are:

Collapsing
Bursting
Crushing and buckling
Damaged contents
Not handled with care
With 45 years' experience as a UK packaging supplies company, Davpack has probably seen all of the pitfalls of UK parcel shipping, and solved them. So, in order to help cut the cost of parcel damages for UK businesses, their packaging experts have just released a guide to solving common damage problems, along with the offer of advice over the phone.
To discover the '5 Damaged Parcel Horrors and How to Prevent Them', click here, or call Davpack on 01332 821200 for free advice on preventing and solving damages.