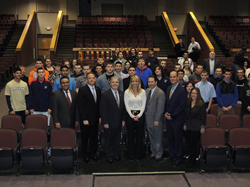 (Bayport, NY-February 26, 2014) (PRWEB) March 03, 2014
Suffolk County Executive Steve Bellone spoke to members of the Bayport-Blue Point Chamber of Commerce as well as students of the Bayport-Blue Point Business Class Wednesday morning as part of Bayport-Blue Point High School's School-To-Business program. Over 100 students, teachers and members of the Chamber attended the meeting where the County Executive spoke about Suffolk County's water quality initiative, improving transportation infrastructure, and downtown revitalization projects throughout Suffolk County. In addition, County Executive Bellone discussed efforts to reverse the trend of young adults leaving Long Island.
"In order to make our County a model for sustainable economic growth, we need to focus on ways to attract young people to stay on the Island," said County Executive Steve Bellone. "We need their creativity, their ingenuity, their entrepreneurial spirit. We have already begun to focus on downtown revitalization efforts to create hubs for young people to live and stay on Long Island."
"The input of our younger residents is vital to the future success of our County, said Legislator Bill Lindsay III. "We are always looking for innovative ways to create attractive and affordable downtowns for our young people to live in, so it was very refreshing to hear some positive feedback from the Bayport-Blue Point students about the future of economic development on Long Island."
For more information on Suffolk County's downtown revitalization efforts, log on to [http://www.SuffolkCountyNY.Gov or visit [http://www.facebook.com/suffolkcountystevenbellone.