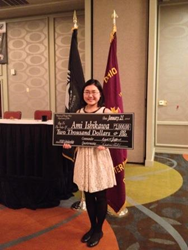 North Ridgeville, OH (PRWEB) February 28, 2014
Lake Ridge Academy freshman Ami Ishikawi was named the local and regional champion of the VFW Voice of Democracy contest. On January 25, 2014 Ami traveled to Columbus to attend the state awards ceremony celebrating the top twelve essays in Ohio's VFW Voice of Democracy essay contest. Ami was one of only 12 individuals to advance out of 1,600 students who participated in the VFW contest. Ami received praise for her dramatic reading of her essay and won a $2,000 cash prize. She was the only freshmen to compete among mostly juniors and seniors. Ami will read her essay at the Memorial Day parade in North Ridgeville, Ohio.
Ami and her sister Yuna '15 recently perform in the High School Honors Performance Series at Carnegie Hall in New York City. To read more about their successes visit Lakeridgeacademy.org.
About Lake Ridge Academy
Lake Ridge Academy is an independent, nonsectarian day school offering co-educational classes from kindergarten through grade 12.
Founded in 1963, Lake Ridge Academy is committed to providing small class sizes and maintains an 8:1 student ratio. Located on a beautiful 88 acre campus, we are the only independent college preparatory school on Cleveland's west side.
Our mission is to send into a changing world confident young people of integrity who think critically and creatively while embracing the joy of lifelong learning.