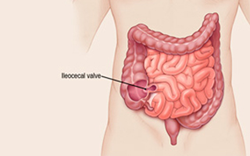 During the Food Sensitivities Screening, Dr. Griffin can measure which foods trigger a negative response in the body which can lead to ileococal valve dysfunction.
Orland Park, IL (PRWEB) February 27, 2014
Located on the right side of the body, between the small and the large intestine is the ileocecal valve. The ileocecal valve's role in the digestive track is to prevent backflow from the large intestine once any material leaves the small intestine. The proper function of this valve is to open and close upon demand.
Barbara Griffin, NMD, CNC, Certified Gluten Practitioner, and director of Vital Health, Inc. shared, "The stress we live and eat under greatly contributes to dysfunction of the ileocecal valve. Food allergens, diets filled with high sugar content, high carbohydrates, too much roughage and too many processed foods only compound the problem."
When ileocecal muscle sticks in the open position it results in diarrhea or loose bowels. The open valve causes a backwash from the large intestine into the small intestine, allowing fecal matter to be used in the making of blood. This has great consequences, as the small intestine is where the process of creating the fuel to feed the body begins. When this muscle is stuck closed, the process of eliminating waste will be hindered by causing more constipation and bloating. Both of these conditions are very toxic and can cause a problem anywhere in the body there is blood.
Ileocecal valve dysfunction can include:

Migraine headaches
Diarrhea Constipation Bloating
Chronic sinus infection
Dark circles under the eyes, puffy cheeks
Typical conditions of the colon including irritable bowel, spastic colon, Crohn's disease and Celiac disease
Joint pain
Dizziness
Dr. Griffin explained, "Typically if the ileocecal valve is remaining open, a person may experience classic flu and common cold symptoms, too frequent bowel movements and fever. If the valve remains closed, people can experience constipation and pain around the appendix. The good news is that once ileocecal valve dysfunction is detected, the muscle can be strengthened so it works properly and proper digestion is returned."
Dr. Griffin recommends the following tips to ensuring the ileocecal valve works properly:
1. Rule out food allergies and sensitivities.
The most common food allergies that can affect the digestive track are gluten/wheat, dairy products, eggs and shellfish. During Vital Health's Food Sensitivities Screening, Dr. Griffin can measure which foods and environmental sensitivities trigger a negative response in the body. By removing sensitive foods from the diet, inflammation in the intestinal wall will be reduced and proper functioning of the ileococal valve restored.
2. Supplemental Support
During the painless and non-invasive EVA Screening, Dr. Griffin can identify what supplements will further support the body and aide the ileocecal valve in performing its critical role in the digestive system. For example, if digestive inflammation is severe, supplements will be suggested to get the inflammation under control. Digestive enzymes, probiotics, intestinal soothing formulas, calcium and/or magnesium and chlorophyll will typically help in calming the irritated ileocecal valve.
3. Dietary Changes
Eliminating identified food sensitivities is the critical first step. Additional Dr. Griffin suggests that until the ileocecal value is functioning properly, lettuce, popcorn, raw vegetables and fruits, and foods in the cabbage family are avoided until inflammation, gas, bloating and bowel dysfunction are under control. Avoid red meat as a source of protein, substituting fresh fish, veal, lamb, and skinless poultry until symptoms are gone. Eliminate refined carbohydrate, processed foods, alcohol, fried foods and caffeine as they are harder on the digestive system and help fuel inflammation. Drink at least eight glasses of water a day. You must chew your food as thoroughly as possible. If food is not chewed into a liquid form, large chunks of food are passed through the tube to the ileocecal value, which can cause problems.
4. Control Stress
Stress is one of the leading causes of inflammation in the body. A high stress level heavily impacts digestive health. Emotional traumas and work related stressors are known to have a direct impact on the ileocecal valve shutting down. It is important to participate in outlets such as exercise, meditation, yoga or massage in order to reduce stress levels.
Dr. Griffin recommends checking with your doctor before starting any new nutritional supplement. The EVA screening performed by Dr. Griffin does not take the place of diagnostic medical testing.
About Vital Health, Inc.:
At Vital Health, Inc. Dr. Griffin integrates a whole body approach with the intention of facilitating wellbeing and optimal health amongst her clients. Dr. Griffin's specialties include: traditional naturopathy, nutrition, EAV Meridian Stress Assessment, Food Sensitivity Screening, Environmental Screenings, Iridology, SKASYS, Live Blood Cell Analysis as well as established integrative therapies such as Neuroemotional Therapy, Neuromodulation Technique, Cold Laser and clinician for Spectracell Laboratories, Inc. Vital Health, Inc. 9031 W. 151st Street, Suite 210, Orland Park, IL 60462, (708) 226-1131, http://www.vitalhealth.org.