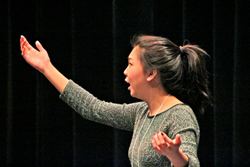 North Ridgeville, OH (PRWEB) February 28, 2014
Congratulations to Lake Ridge Academy Senior Lia Yoo who placed first in the Cleveland ESU (English Speaking Union) Shakespeare Monologue Contest! Lia received a cash prize and the honor of performing at New York's Lincoln Center for the National Tournament. Over 200 students auditioned in their schools; 29 were selected to compete at The Idea Center in Playhouse Square on Saturday, February 22, 2014.
Lia was chosen to represent Lake Ridge Academy at the Northeast Ohio Shakespeare Monologue event after performing a scene from Henry VI, part 3 in the inner-school competition. On the Westfield Theater Stage, each contestant presented two speeches from Shakespeare's plays, plus a sonnet. From the semi-final round, the judges chose six students to advance to the final. The six finalists were given four new monologues and sent to a private room with their coaches. According to proud coach and mentor, Teresa Jenkins, "Lia looked over the monologues and chose the Juliet banishment speech from Romeo and Juliet. Then, she set to work. Just thirty minutes later she strolled confidently on stage."
During the final round, Lia performed her sonnet, then her cold reading off book. "The judges told me later they thought she had lucked into a monologue from a play she had just performed. They were in shock when I told them she had in fact memorized the twenty lines in just ten minutes!" said Mrs. Jenkins.
The winner of the National Tournament will win a trip to London, England to study Shakespeare at the Globe Theater and similar venues.
To read more about Lia and her amazing win visit: http://www.cleveland.com.