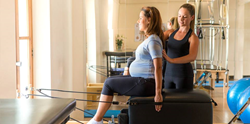 Practicing Pilates while pregnant can lead to an easier birth.
(PRWEB) March 02, 2014
A woman who maintains her fitness and health during pregnancy is giving herself a better chance of an easier birth, Gollan reveals in her post Pregnancy Pilates: Is It Safe and Beneficial?
Because of its low-impact, aerobic exercise, Pilates during pregnancy isn't just safe, but also recommended by many doctors and midwives. For, as well as aiding deliver, it can also lessen pains and improve posture.
How to choose the right Pregnancy Pilates class
Women should find a class that has an extremely knowledgeable instructor when it comes to doing Pilates during pregnancy, as well as one which is prepared to devise an individualised programme just for them. As well as this it's also essential to get the all-clear from their OB-GYN before starting.
What exercises NOT to do during pregnancy
Even in Pilates there are some exercises which should definitely be avoided during pregnancy, says former professional dancer Gollan. These include:

Positions which involve putting pressure on the back or stomach should be avoided towards the end of a pregnancy. Standing on one leg isn't advised either, not are exercises which involve supporting body weight on the hands and knees since it can cause pain to the wrists.
Overstretching should also be avoided at all costs. Women become more flexible during pregnancy due to the release of the hormone relaxing. This makes ligaments looser. Overstretching can cause them to become lax and may even prevent them returning to their pre-pregnancy state. The unenviable result is unstable joints.
Any exercise which causes pain should certainly be avoided.
Safe exercises during pregnancy
Thankfully there are plenty of 'safe' pregnancy exercises. These include exercising with arm weights, 'rolling like a ball,' and carrying out planks and side planks routines and various footwork motions while standing. Here's more:
Standing Pilates Footwork
Standing Pilates footwork exercises are an excellent way to stretch safely and strengthen the body during pregnancy. The following exercise strengthens ankles and knees, as well as tightening the calves:
Standing normally, with feet at hip distance apart, the arms should be placed straight out in front and held. The body should then rise onto the toes and hold before bending the knees and once again holding. The stomach should remain tight, eyes forward and the back straight. The heels should then be lowered to the floor and held before the body stands upright and tall once more. The process should then be reversed.
Rolling Like a Ball
This exercise aids in straightening lower back muscles as well as helping with both balance and core strength.
Getting in to position for this exercise involves sitting on the edge of a mat, bringing the legs up to the chest and holding them in place. While holding the legs at the chest, the feet should be lifted up off the mat and the heels pulled in (bringing them in as close to the gules as possible). The back should then be rounded, the chin brought forward and the eyes looking downwards. The elbows should also remain wide.
Starting from the core, roll back onto the mat, all the way to the shoulder blades, then let the momentum carry the body back up again to its original position –stopping before the toes touch the floor. This position should be held for a second.
Rolling back onto the neck should be avoided; so should touching the toes to the floor when back in the original position. Breathing should involve inhaling during backward rolling and exhaling to come forward.
The Pilates Fitness Ball
The fitness ball is the perfect tool to help tone the transverse abdominis (TVA). It can also help with balance and upper body strength. Strong abdominal muscles are essential during pregnancy as this is what helps to support the uterus and relieve pelvic pressure and back pain. If the abs are in good shape, it makes delivery easier and recovery much quicker. While a Pilates fitness ball exercises can help with this, it's still a good idea to have a trained instructor to explain the exercises and provide guidance on which exercises are appropriate.
Third Trimester Workout: Releasing Lower Back and Pelvis Pressure
Sitting on the fitness ball and keeping the shoulders back, chest out, and natural curves in the spine, rolling around a little is fine. Sitting tall, with knees bent about 90 degrees and the feet comfortably placed flat on the floor, the pelvis can be rotated in a circular motion for around 30 seconds. It should then be repeated in the opposite direction.
Taking a Pilates class with a trained instructor allows a pregnant women to focus on her exercises, without having to worry about which ones are safe during pregnancy.
Inner Strength Pilates is located in Adelaide and provides Pilates classes especially for pregnant women, as well as Barre classes. There is a class timetable on the company's Pilates website. They can also be found on Facebook and Google+ at Inner Strength Pilates Hyde Park and Inner Strength Pilates Goodwood.