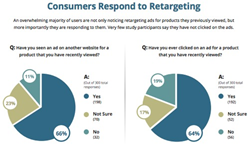 We wanted to find out for ourselves what consumers really think about retargeting. Once we saw the results, we decided to publish an ebook so we can educate online marketers and our reseller clients on the value of PPC retargeting
Falls Church, VA (PRWEB) March 04, 2014
In February 2014, HubShout conducted a survey to measure consumer behavior and opinion in regards to a unique type of pay-per-click advertising known as PPC retargeting (or remarketing). The survey was intended to identify consumers' thoughts on PPC retargeting ads as well as their reactions to ads "following" them as they navigate the web. HubShout's marketing team conducted the PPC retargeting survey using a third party online survey tool. Survey participants were men and women between the ages of 18-65.
The eBook divulges the results of the study that proves PPC retargeting is effective in helping online marketers reach their target audiences. The HubShout marketing team plans to post the PPC Retargeting eBook on the HubShout "Resources" webpage in early March.
HubShout CEO Chad Hill said, "Many business owners are skeptical about retargeting. They think it's too expensive, annoying to consumers, or they have other concerns about its worth. We wanted to find out for ourselves what consumers really think about retargeting. Once we saw the results, we decided to publish an eBook so we can educate online marketers and our reseller clients on the value of PPC retargeting."
The survey participants were asked a number of questions designed to help SEO resellers and online marketers understand consumer awareness and sentiments about pay-per-click retargeting advertising. The survey answered such questions as, "Do you find it helpful when a company targets ads to you after you have visited their website?" and "Have you ever clicked on an ad for a product that you have recently viewed?" The survey also asked consumers about their knowledge and use of ad blocking plugins.
HubShout's survey provides the HubShout team with information that will help them advise their SEO reseller clients on how to take advantage of pay-per-click retargeting, a lucrative and growing online advertising strategy.
Marketers, business owners, SEO resellers or anyone interested in receiving a copy of the eBook should contact HubShout directly.
HubShout was co-founded in 2008 by Adam Stetzer, Ph.D., President and Chad Hill, CEO. HubShout is a US-based SEO reseller, website reseller, and online marketing firm with offices in Falls Church, VA (DC Metro) and Rochester, NY. For more information about HubShout's reseller programs, PPC advertising or any online marketing service, please contact HubShout.