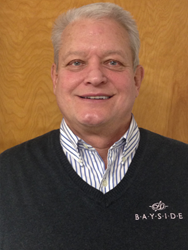 Tom Halverstadt has an in-depth understanding of business strategy, financial planning and operations management—key elements in business growth and expansion.
Jefferson County, W.Va (PRWEB) February 28, 2014
The Jefferson County Development Authority (JCDA), through a partnership with the West Virginia Small Business Development Center (WVSBDC), has hired Tom Halverstadt as the county's first business/entrepreneur coach. Funded entirely by the WVSBDC with financial support from local business community partners, this new position will serve Jefferson, Berkeley and Morgan Counties, with no cost to local taxpayers.
Promoting job creation and business viability and expansion, Halverstadt will work with entrepreneurs and small business owners, providing in-depth, one-on-one business consultative services, at no cost, to recently formed companies and established small businesses seeking to expand, diversify, or attract new capital investment.
"The WVSBDC partners with key economic development organizations with an entrepreneurship focus across the state to establish and staff an effective business coaching network throughout West Virginia," said Kristina Oliver, state director of the WVSBDC. "We seek to partner with organizations that have common goals and missions around growing the economy in their area through small business and entrepreneurial success. We are very excited to welcome Tom Halverstadt to our network. He understands and has a passion for this work, and will be a valuable asset to both the WVSBDC and the Jefferson County EDA."
Halverstadt is an accomplished business leader, having held executive positions as CEO, COO and CFO. He was as a CPA for ten years with Deloitte, a Big Four public accounting and professional service firm, working primarily with manufacturing, retail, nonprofit and county governments. Most recently he has provided business advisory services to small and midrange size companies throughout the Eastern Panhandle. He attended the University of Maryland and is a veteran of the United States Marine Corps.
"Tom has an in-depth understanding of business strategy, financial planning and operations management—key elements in business growth and expansion," said John Reisenweber, executive director of the JCDA. "We are confident that his expertise and experience will translate into a significant positive economic impact on the region. We are grateful to the SBDC for recognizing the thriving business community in Jefferson County and for its commitment to serving its needs."
The WVSBDC is a division of the West Virginia Development Office and promotes economic development through a program of practical, interrelated services, providing assistance to existing small businesses and the emerging entrepreneur. The organization is funded by the State of West Virginia, the United States Small Business Administration, and West Virginia community colleges and Workforce Investment Board partners.
Halverstadt will be the featured speaker at the April 3rd Eastern Panhandle Entrepreneurs Forum, held at the Inn at Charles Town, 5:30 to 7:30 p.m. Members of the community are invited to attend this free event and learn more about the business coaching process.