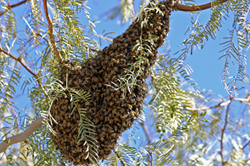 If you are unsure of what types of bees you are seeing around your home, the safest option is to contact a professional pest control company to come out and assess the situation." Rick Rupkey, Branch Manager, Las Vegas Branch
Las Vegas, NV (PRWEB) March 03, 2014
Senske Services, which provides professional pest control services in Las Vegas, is warning area residents that its technicians are seeing an increased level of activity by Africanized honey bees, also more commonly known as killer bees. But attempting to control an active hive of Africanized bees is more complicated than setting traps or purchasing bug spray.
What makes these bees so dangerous is that they are much more aggressive than other bees. They respond to perceived threats ten times faster than Western bees and they have more of a tendency to attack as a group. Once the hive is alerted the group can sometimes chase a threat over a quarter of a mile.
Unfortunately, homeowners who spot a hive and try to solve the problem on their own can accidentally put themselves in harm's way. Instead of making a dangerous situation worse, it is important that they contact a licensed pest control company that can deal with the problem safely and effectively.
"Due to their aggressive nature, and the increase in the level of activity that we are finding here in Las Vegas, it is vital for people to be made aware of the dangers involved with dealing with these on their own and to contact a professional pest control company immediately," says Rick Rupkey, Senske's Pest Control Branch Manager in Las Vegas.
Although Africanized honey bees are very difficult to tell apart from other bees by sight, looking almost identical to more passive species, their behavior and temperament are identifiable traits to a trained professional.
For more information on Senske's Pest Control services in Las Vegas, contact them at (702) 789-7483.
About Senske Services:
Senske Services, Inc. is a leading lawn, tree and pest control service provider that is locally owned and operated, with its corporate office based in Kennewick, Washington. It has been a trusted source of lawn, tree and pest control services since 1947 across Eastern Washington, Idaho, and Utah, as well as pest control in Las Vegas, Nevada. To see what Senske Services can do for you, visit http://www.senske.com.