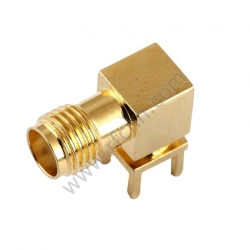 (PRWEB) March 02, 2014
Recently, RFcnn.com, the well-known adapter manufacturer and retailer, has announced its latest range of SMA right angle adapters. Today, the company has decided to launch a promotion on these brand new adapters. All of them are offered at discounted prices, up to 25% off. The deadline of the special offer is March 16, 2014.
Statement of the Company
RFcnn.com hopes to help worldwide customers to get more quality and cheap devices. The company has an area of 30 hectares with the existing building of over 10,000 square meters. SMA adapters, SMA connectors, MMCX RF cables, cable assemblies are among the most popular products of the company. What's more, the company often considerably reduces the prices of its practical items.
"We are pleased to unveil our new SMA right angle adapter collection. The purpose of our company is to provide useful devices for customers around the globe. All our fresh adapters are reasonably priced. At our online shop, we also offer quick response and rapid delivery. Those who are interested in our inexpensive adapters should visit our website as soon as possible," the CEO of the company says.
The Hottest Design
The hottest design in the company's fresh assortment is called SMA female Right angle through hole for PCB RF Connector. The detailed information about the item is as follows:
Part No : SMA205RA
Description : SMA female Right angle through hole for PCB RF Connector
Connector Series: SMA
Connector Type: female
Contact Termination: Solder
Impedance: 50 Ohm
Mounting Type: Through Hole PCB
Fastening Type: Threaded
Frequency – Max: DC-18GHz
Body Material: Brass
Body Finish : Gold
Center Contact Material: Brass
Center Contact Finish: Gold
Dielectric Material: Polytetrafluorethylene (PTFE)
Voltage Rating: 375V
Working Temperature: -65°C ~ 165°C
About RFcnn.com
RFcnn.com is an online shop of high end devices. It is a China based company that aims to provide customers with high quality products at the lowest possible prices. Customers can try the company's products through sample orders with a long-term contract. Most customers come back soon after receiving their first deals.
More details about the company's useful products can be found at http://www.rfcnn.com/SMA-female-Right-angle-through-hole-for-PCB-RF-Connector-141.html.