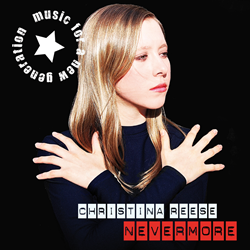 It is vary rare to find a recording worthy of being a Queen cover as is Christina's version of "Nevermore".
Fredericksburg, Virginia (PRWEB) March 04, 2014
The R.E.P. group is proud to announce the release of "Nevermore" as the latest single from Christina Reese. Reese, who performed percussion, piano, and all vocals on the track originally recorded it at 13 years old as a gift for her father. The song/video score was produced/arranged for this performance by Jeff Silverman, with additional string arrangements by Nashville session musician Tim Lorsch, and contributions by Michael Radovsky and Matthew Burgess. Reese has already gotten recognition for her recording from a number of places, including Queen's own Brian May saying: "[It's a] very interesting little excursion with some nice playing." Director Jace Smith states that, "it is vary rare to find a recording worthy of being a Queen cover as is Christina's version of "Nevermore". The fact that she did it at the age of 13 blew my mind and inspired me to direct the video."
Christina Reese, now 15 years old, is a singer-songwriter based out of Fredericksburg, VA, who began studying theory and piano at 3 years old. She started percussion instruction at 7 years old, and began performing at 10 years old. Reese founded the country pop band, Hangin' with Stogie, performing drums, keys, cello, and vocals for the group. Reese has written and co-written music that has charted in Europe, Australia, and Japan. Reese has been invited to the IEBA showcase, America's Got Talent, and other national level showcases. She has performed live on Long Islands 103.9 "Real Radio Show," News 4 Nashville, and B101.5 Fredericksburg, VA. Reese released her new EP, "Colors Unseen" in February 2014.
Jeff Silverman, former session and touring guitarist for Rick Springfield, produced the track. He was co-writer and producer of the CD From the Vault, a collection of previously unreleased and remastered tracks from Springfield. It was re-released in 2010 on Frontiers Records. Silverman also recorded and produced at the legendary Sound City Studios in Los Angeles, CA, frequented by such artists as Tom Petty, Fleetwood Mac, Foo Fighters, and the aforementioned Springfield.