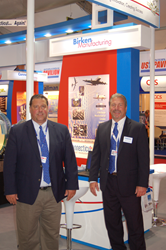 As a small business, Birken Manufacturing Company was never able to participate in the International Airshows. For the last two years, with support through the Airshow Exhibit Program, we were an exhibitor at both shows.
East Hartford, CT (PRWEB) March 04, 2014
Through a strong collaborative partnership between the Connecticut Center for Advanced Technology, Inc. (CCAT) and the State of Connecticut's Department of Economic and Community Development (DECD), Connecticut's Airshow Exhibit Program will enable small to medium-sized aerospace companies to have a presence at the 2014 Farnborough International Airshow in the United Kingdom as part of an exhibition that showcases Connecticut's world-class aerospace industry to the global market.
The exhibit program, administered by CCAT, offers aerospace manufacturing companies a way to tap into the global market through face-to-face meetings with industry leaders at the largest annual international aerospace show. The U.S. Small Business Administration's (SBA) STEP Grant provides additional funding support to companies who participate in the exhibit.
Set for July 14-20, the Farnborough International Airshow marks the ninth international airshow at which a State of Connecticut exhibit spotlights the state's aerospace manufacturers and provides an effective and economical way for smaller companies to connect with potential global customers.
The Farnborough and Paris International Airshows, held in alternate years, play a significant role in helping Connecticut aerospace companies grow and expand. Reported new business generated from show participation over the last eight years is more than $300 million. At the 2013 Paris Airshow alone, expected sales totaled nearly $88 million for the 14 Connecticut exhibitors. The 2013 airshow attracted nearly 140,000 visitors from more than 100 countries.
"Birken has been in the aircraft parts and aerospace components business for more than 70 years, but as a small business, we were never able to participate in either the Paris or Farnborough International Airshows," said Gary Greenberg, president, Birken Manufacturing Company. "For the last two years, with support through the Airshow Exhibit Program, we were an exhibitor at both shows."
According to Greenberg, the shows benefit Birken in marketing the company to international companies and enhancing their own knowledge of new technologies to help them prepare for future growth. "We were able to meet key executives at large manufacturers who were unaware of our capabilities," he said. "We also witnessed new technology that customers are seeking to off-load to qualified vendors, and we were educated in various new platforms in which we could potentially play a role as all of these companies ramp-up and seek capacity in the coming years."
"While we do not attend these shows to specifically win contracts, the inroads and knowledge gained in viewing the technology, and the contacts that we make, generally will turn into long-term production work and relationships with existing and new customers. It is a 'win-win' for vendors, manufacturers and for growth of our international and domestic business as well as for Connecticut," he stated.
Exhibit space for the 2014 Farnborough Airshow is available on a first-come, first-served basis. The cost per company to exhibit is $11,000. Eligible small businesses may receive up to a $4,000 reimbursement through the SBA's State Trade and Export Promotion (STEP) grant, administered by DECD.
The registration deadline to exhibit with the State of Connecticut at the Farnborough Airshow is April 1, 2014. To register or for more details, go to: Airshow Exhibit Program.
About CCAT
The Connecticut Center for Advanced Technology, Inc. (CCAT), a unique economic development organization headquartered in East Hartford, Conn., leads partnerships between industry, academia and government, creating a collaborative framework for tackling today's economic challenges. CCAT combines expertise in cutting-edge manufacturing and information technology with specialized centers of excellence in education and workforce development and alternative energy solutions to help organizations increase efficiencies, compete and succeed.