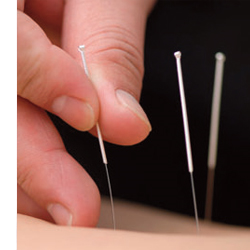 By stimulating different points of the body, traditional acupuncture can be extremely beneficial for back pain, providing long term pain relief and reducing inflammation.
Halesowen, West Midlands (PRWEB UK) 5 March 2014
A new study shows we are risking a back pain epidemic caused by unhealthy habits and sedentary lifestyles. The findings from a study by the British Acupuncture Council to mark 'Acupuncture Awareness Week' (3rd-10th March 2014) show that almost 80 per cent of people suffer with back pain yet admit to behaviours that put their backs under unnecessary strain. To mark the awareness week acupuncturist Jacki Winkett, who works at Fiona Passey and Partners, will be offering a discount to anyone signing up for treatment during this week.
The study found that almost half of the nation admits to eating on their lap, 40 per cent complain they sit at a desk all day and over a third admit to watching TV or films in bed. When asked about their posture, almost a third also admitted they slouch most of the time.
Further results reveal that when it comes to dealing with back pain, 74 per cent say they repeatedly use painkillers to deal with their discomfort rather than addressing the root cause of the problem.
Jacki Winkett, a qualified member of the British Acupuncture Council, comments: "Painkillers often numb the end symptom and mask the problem but do not address many of the combined underlying causes of back pain. By stimulating different points of the body, traditional acupuncture can be extremely beneficial for back pain, providing long term pain relief and reducing inflammation."
With 2.3 million acupuncture treatments carried out each year, traditional acupuncture is one of the most popular complementary therapies practised in the UK today. Based on ancient principles which go back nearly two thousand years, acupuncture involves placing extremely fine, sterile needles painlessly at specific points on the body to trigger a healing response.
Despite acupuncture's widely recognised health benefits, many of us are missing the point when it comes to this ancient Chinese medicine. Statistics show that 41 per cent of people would only consider acupuncture as a last resort and 88 per cent didn't know the National Institute of Clinical Excellence (NICE) recommends the therapy for persistent, non-specific lower back pain.
Jacki continues: "I find that many patients opt for the painkiller route with limited success before turning to acupuncture. Simple lifestyle changes alongside acupuncture could save millions of people taking medication every day. It's important to recognise the impact our behaviour has on our bodies and to make sure we are fully informed about all treatment options to promote long term health and wellbeing."
Jacki will be offering a discount for all new patients booking a treatment from 3rd – 10th March 2014. To find out more about this please visit halesowenosteopathic.co.uk.
To find out more about traditional acupuncture visit http://www.introducingacupuncture.co.uk.
Notes to editors:
Figures are taken from the One Poll survey, December 2013.
About the British Acupuncture Council:
The British Acupuncture Council (BAcC) is the UK's largest governing body of traditional acupuncture with over 3,000 members - each of whom is an accredited practitioner providing the highest standard of professional care to patients. BAcC members practice a traditional, holistic style of acupuncture diagnosis and treatment based on a system developed and refined over 2,000 years.
To achieve BAcC membership, practitioners must first undertake extensive training in acupuncture (minimum three years full-time at BSc or BA degree level) which includes physiology, anatomy and other biomedical sciences appropriate to the practice of acupuncture and their expert practice skills are maintained by following a mandatory individual programme of continuing professional development (CPD). BAcC membership is also a mark of assurance of high standards in professionalism, training and safety.
About Jacki Winkett, at Fiona Passey & Partners
Jacki is a registered practitioner practicing Traditional Five Element Acupuncture. Jacki has experience in working with a wide range of conditions and age groups. If unsure if Traditional Acupuncture may help Jacki offers a free no obligation 15 minute consultation. Traditional Acupuncture is recognised by many private health insurers.