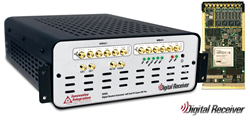 Simi Valley, California (PRWEB) March 05, 2014
Innovative Integration, a trusted supplier of signal processing and data acquisition hardware and software solutions, today announced the Digital Receiver Instrumentation Series, turnkey solutions providing integrated digital downconversion (DDC), FFT, spectrum monitoring, and digital beam-forming functions. The solutions consists of three parts: An FPGA-based analog digitizer module, a PC-based host controller plus an optional firmware development kit to allow customization.
The digitizer module is provided with software examples and C++ API, plus pre-compiled firmware bit image and a comprehensive manual. The module may be installed onto an XMC-PCIe adapter to allow use within a conventional PC. Alternately, it can be used within Innovative's Andale Data Recorders to capture extremely long time sequences. Or, the module may be installed within an Innovative ePC or VPXI-ePC embedded computer to create a miniature, self-contained instrument. Regardless, the application software may be used to capture and analyze the data immediately – a turnkey solution.
First in the series is 90401 Digital Receiver with Eight Independent DDC Channels and One 32K FFT, a great solution for Digital Receiver/Recording, Spectrum Analysis, Surveillance, or Software Defined Radio. A development kit is available to support creation of advanced custom firmware.
Features:

Analog bandwidth: 5 ~ 400 MHz
Eight 14-bit ADCs sampling up-to 250 MHz
Synchronous VITA 49 timestamp using external PPS signal or internal 1 second timer
Embedded power meter for ADCs (dBFS)
32 digital-IO bits
PCI Express Gen 2: sustained transfer rate up-to 3200 Mbyte/s
Support synchronous down-sampling on multiple modules
DDC

Eight independent 16-bit DDC channels
DDC bandwidth: 50 MHz ~ 200 KHz
Independent tuner: DC ~ 125 MHz; resolution 0.0582 Hz at 250 MHz sampling rate
DDC outputs SNR > 55 dB; SFDR > 75 dB
DDC reprogramming, channel enable and disable on-the-fly
Spectrum inversion for ADC under-sampling
FFT

One wide-band/narrow-band spectrum analyzer (32768 Points FFT)
Threshold limited spectrum monitoring up-to 512 bins
About Innovative Integration
Innovative Integration, a subsidiary of Interconnect Systems, Inc. http://www.isipkg.com. Since 1988, Innovative Integration has grown to become one of the world's leading providers of signal processing and data acquisition hardware and software. For more information on Innovative Integration please visit http://www.innovative-dsp.com. All trademarks mentioned are the property of their respective owners.
Company Contact: N Henderson nhenderson(at)innovative-dsp(dot)com 805-578-4261