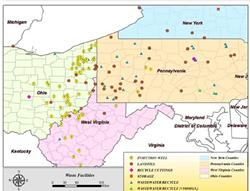 As Pro Version Subscribers, we use ShaleNavigator's Property Reports to deliver critical information to our clients in Pennsylvania, West Virginia, and Ohio. - Steve Karabin, CEO, The Rhino Group
New York, NY (PRWEB) March 04, 2014
ShaleNavigator, the web-based mapping solution for shale oil and gas information, has added over 150 data point locations for facilities currently accepting fracking wastewater. "Our subscribers asked for this data to be identified and added to ShaleNavigator, and the successful addition marks another advance in meeting customer needs," said Edward Camp, Founder of ShaleNavigator mapping.
The fracking wastewater facilities list was originally compiled for the Marcellus & Utica Databook, a publication joint authored by ShaleNavigator and Marcellus Drilling News. Now added as an interactive map layer in ShaleNavigator, it joins pipelines, permits and wells as a staple for subscriber business intelligence needs.
The new layer addition is aimed at helping subscribers quickly evaluate current development in their areas of interest in the fast-developing shale gas landscapes.
Accessing ShaleNavigator
A free 7 day trial account is available by signing up at http://www.shalenavigator.com. Pro Plus Subscriptions, which include 100 Property Reports per month, are available for only $199/month, or $1,999 for an entire year. Enterprise discounts are also available.