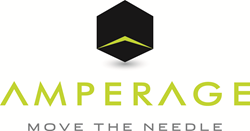 We want to forge a powerful connection for clients to energize business growth. Today there is no middle ground—you're either moving the needle or you're not.
CEDAR RAPIDS/CEDAR FALLS, Iowa (PRWEB) April 01, 2014
Henry Russell Bruce (HRB) and ME&V Advertising + Consulting, two of Iowa's top advertising agencies, today reported the completion of a merger first announced on March 3. The new entity is now AMPERAGE Marketing.
AMPERAGE, a company of more than 50 people with offices in Cedar Falls, Cedar Rapids, Des Moines, Dubuque and Bettendorf, Iowa, creates a unique combination of capabilities and expertise to provide clients with evidence-based marketing and communications strategies that generate proven results. The tagline for the new agency is, "Move the Needle."
"Our goal is to forge a powerful connection for our clients to energize business growth," said Bryan Earnest, former president of ME&V, and now AMPERAGE president and CEO. "We will move the needle for our clients by connecting with their target audiences, motivating action, measuring effectiveness and reporting proven results."
Earnest also announced AMPERAGE's senior management team today: Jim Thebeau, former CEO of HRB, will be chairman of the board; Steve Erickson, former president of HRB, will be chief creative officer; Mark Mathis, former director of cool of ME&V, will be chief strategy officer; and Jim Infelt, former creative director for ME&V, will be chief digital officer.
The combined agency represents more than 200 clients across 10 states and offers branding, marketing, advertising, public relations, corporate communications, Web and digital marketing, media buying, fundraising and complete video services. Clients represent the healthcare, higher education, financial, manufacturing and nonprofit industries. Combined capitalized billings are approximately $33 million.
"We've already begun to see a positive response to the merging of our combined brands and reputations," said Earnest. "Companies and organizations are contacting us to gain the benefit of our depth of experience, consulting expertise and marketing capabilities. We're excited about the recognition of the merger in our markets and verticals."
Earnest also revealed that the actual merger of the two firms was almost a full year in the making, with both sides taking time to ensure that becoming a single business was right for all the clients, employees and owners.
"We found we had a lot in common," explained Earnest, "and that we had the same goals to grow our businesses. Just among the partners, we have more than 150 years of marketing, advertising and nonprofit fundraising experience. We all wanted to use that experience to achieve a new level of service offerings and dynamic results for our clients."
The alliance creates one of the largest advertising agencies in eastern Iowa and the largest fundraising consulting firm in the state, with more than $100 million raised for nonprofits over the last 15 years.
About AMPERAGE:
AMPERAGE is a full-service advertising and marketing consulting company offering comprehensive services to business-to-business and business-to-consumer clients across the U.S. Its primary focus areas are branding, marketing and communications services for the healthcare, financial, higher education and manufacturing sectors and nonprofit fundraising. The origins of the company date to 1973. For more information, visit http://www.AMPERAGEmarketing.com or call 800-728-2656.
Background on ME&V and HRB:
ME&V Advertising + Consulting started in 1996. It is a two-time INC Magazine 500 fastest growing companies designee and an Ernst and Young Entrepreneur of the Year. ME&V has category specialization in healthcare, higher education, financial and nonprofit fundraising. ME&V also includes a video production arm. ME&V currently operates in offices in Cedar Falls, Cedar Rapids and Des Moines.
Henry Russell Bruce (HRB) just celebrated its 40th anniversary in Cedar Rapids. HRB was voted "the best ad agency in the Corridor" by the Corridor Business Journal readers six times. HRB has category specialization in healthcare, medical device marketing, higher education, fashion, retail, manufacturing and transportation. HRB currently operates offices in Cedar Rapids and the Quad Cities.
###