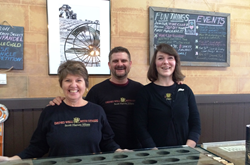 I'm convinced free-run grape juice pulses though my veins. - Jack Gorman, new Tasting Room Manager at Scott Harvey Wines
Sutter Creek (PRWEB) March 04, 2014
Scott Harvey Wines, one of the original Tasting Rooms on Main Street in Sutter Creek, welcomes Jack Gorman as their new Tasting Room Manager. Jack brings an unusual background to the Tasting Room. He worked as an education lobbyist for more than 15 years before rounding out his career in public policy as Deputy Director in Governor Schwarzenegger's Washington DC office. Pulling his people-oriented career beyond politics, he managed Bin 604 Wine Cellars, a boutique wine store in Baltimore, for the past year, building relationships with customers and expanding the wine knowledge of his clientele. As fate would have it, Jack was first introduced to Scott Harvey Wines because the winemaker's Zinfandel was popular with the store's customers.
"One of the reasons I was very excited and intrigued by Scott Harvey Wines is that I believe the organization is truly on the precipice of something great," said Jack. "In my first month I have seen first hand what a lovely environment Sutter Creek provides for wine tasting. I'm struck by the amazing and loyal customer base Scott Harvey Wines already possesses. We have an excellent foundation and the opportunity for future growth is limitless.
"Scott's passion, knowledge and history in winemaking is second to none," he continued. "Being able to work for and alongside him is absolutely the kind of environment I was looking to bring my skills." Jack assisted Scott Harvey, the winemaker, with the bottling of 2012 InZINerator and One Last Kiss last week. Jack shares Scott's insights and views on winemaking with tasting room visitors.
No stranger to California, Jack feels that free-run grape juice pulses through his veins. He originally hails from the Lodi wine growing region and received his Bachelor's degree from UC Davis. He now resides with his fiancé in Sacramento.
"We're delighted to have Jack join us," said Jana Harvey, co-founder of Scott Harvey Wines. "He brings great energy, enthusiasm and ideas to enhance our winetasting experience."
"In my first month in the tasting room, I've had the opportunity to share Scott's wines with some very appreciative people." They are especially enjoying our Mountain Selection Zinfandel, double gold medal winner, and our Mountain Selection Barbera, awarded the gold medal by the San Francisco Chronicle Wine Competition. It's fantastic to see people's reactions first hand as they sample the wines and experience what makes them stand out." said Jack.
Jack has several new programs he's excited to introduce to his tasting room visitors. "We're planning to unveil a series of seminars to expand our guests' wine education and enjoyment and to bring that experience into people's homes."
About Scott Harvey Wines:
Handcrafted wines from Amador County and Napa Valley, Scott Harvey Wines produces wines under three labels: Scott Harvey Wines, Jana Winery and InZinerator. Established in 2004, Scott Harvey Wines features Amador County Barberas, Zinfandels and Syrahs, Napa Valley Cabernet Sauvignon and Zinfandel, along with a variety of one-of-a-kind white and red wine blends. Creator of "niche wines that over deliver," Scott Harvey, owner and winemaker, has been making quality wines for over 30 years.
http://scottharveywines.com
Scott Harvey Wines Tasting Room
79 Main Street,
Sutter Creek, California
Located in the heart of California's Gold Country
Phone: 209-267-0122
Open 11:00-5:00 Thursday to Monday
For more information, please contact:
Susan Curtis
All Social
susan(at)allsocial(dot)biz
818 597-0300