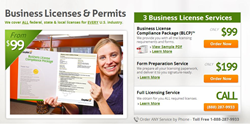 The two most important legal steps for starting a business are to register the business with a state, then apply for any necessary permits and licenses.
Westlake Village, CA (PRWEB) March 04, 2014
CorpNet.com, a leading online business document filing company that helps entrepreneurs start a business, has rolled out its latest service designed to help busy entrepreneurs keep up with legal compliance matters. CorpNet's new online Business License service makes it easy for small businesses to comply with every required local license, permit, and tax registration.
Virtually every business has to comply with a variety of business licenses, permits and registrations. However, the specifics vary by location and business activity and it's easy for small business owners to overlook or not be aware of certain requirements. If caught without the proper permits and licenses, a business can face hefty fines and penalties, and can even be shut down or sued.
CorpNet's Business Licenses and Permits services take the guesswork out of the licensing
process, so small business owners can be confident they are 100% compliant with license
requirements on the federal, state, county, and local level. With the service, a CorpNet business expert will perform thorough and customized research on every license or permit a small business needs, and even prepare the necessary forms and submit them to the proper licensing authorities.
"The two most important legal steps for starting a business are to register the business with a state, then apply for any necessary permits and licenses. It's very easy for things to slip through the cracks, particularly for small business owners who aren't used to navigating all the local licensing agencies," explained Nellie Akalp, CorpNet.com's co-founder and CEO.
"That's why we're thrilled to be able to offer this new licensing service to our customers. We make sure their legal bases are covered, so they can concentrate on running their business," she added.
CorpNet offers three different licensing packages:

Business License Compliance Package (BLCP)™- $99: researches the licenses, permits, and tax registrations needed for a particular business and includes the actual applications.
Form Preparation Service - $199: Includes everything in the Business License Compliance Package, in addition to having the forms pre-filled and ready to file.
Full Licensing Service – Call for pricing: Includes everything in the Form Preparation Service. In addition, CorpNet will submit the applications to the various licensing authorities and track that you have received all the necessary licenses, permits, and tax registrations.
Since its launch in 2009, CorpNet.com has helped more than 10,000 small businesses across the country incorporate online or form an LLC. The company has made a five-star name for itself for its personal touch, including friendly in-house phone support and complimentary consultations.
Unlike their competitors who offer personal legal services (such as wills and estate planning), CorpNet.com is solely focused on the legal needs of small businesses CorpNet has been investing heavily in developing no-cost, value-add tools for its clients and the small business community. Small business owners can find a wealth of resources and guides on the CorpNet.com website including: B.I.Z. (a no-charge corporate compliance concierge tool), meeting minute templates, and numerous guides on starting and growing a business.
About CorpNet.com
CorpNet.com is an online incorporation service that helps entrepreneurs get their business off the ground in a fast, reliable, and affordable manner. Through its website, CorpNet.com provides business filing services required for a variety of business needs such as: forming a Corporation or Limited Liability Company (LLC), filing for a DBA, Doing Business in Multiple States (Foreign Qualifications), Closing a Business (Dissolutions), Registered Agent Representations, Trademark Search and Registrations, and Corporate Compliance services and supplies for all 50 states.
Founded by experienced entrepreneurs Philip and Nellie Akalp, CorpNet.com is a private company based in Westlake Village, CA. For more information, please visit http://www.corpnet.com or follow @CorpNet on Twitter.