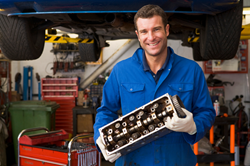 Burbank, CA (PRWEB) March 06, 2014
A package of General Liability, Business Owner and Garage Keepers policies is currently being offered by USA Business Insurance. These valuable coverages protect the hard-working mechanic shop proprietor including those who perform general vehicle repair, alignment shops, smog check stations, transmission inspection/repair stores and many more.
The protections cover the owner if an over-zealous patron trips on a jack in the shop or if property is damaged as well as for claims incurred from work being performed that is later found to be faulty.
An example of this might be what could happen if a car is brought into the shop because of a part recall. In the replacement process, because of a miscommunication, an incorrect part goes on the car. Later, the mistake is discovered. If this happens, the products and completed operations coverage would take care of any costs associated with making that error right with the customer. In fact, if the authorized recall replacement part turned out to not work properly, the mechanic shop owner would not have to absorb the costs because of this coverage.
In addition, the general liability portion of the policy pays for any costs that arise from a legal defense put on against a claim.
"We are pleased to offer this comprehensive coverage to those who keep our vehicles running in tip-top shape," said a spokesperson at the Burbank, California based USA Business Insurance. "It helps reduce the risk these entrepreneurs take regarding inadvertent mistakes that can sometimes occur."
The mechanic shop owner can focus on not only growing his business but remaining current with the rapidly changing vehicle technology.
About USA Business Insurance
The General Liability, Garage Keeper and Business Owner suite of insurance policies offered by USA Business Insurance are tailored for mechanic shop owners and underwritten by a top-rated insurance carrier, bringing more peace of mind to the business owner. The company also offers flexible payment plans, discounts and great rates.
For more information visit http://www.businessinsuranceusa.com.