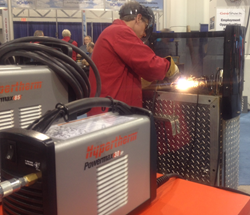 Hundreds of construction professionals rely on Hypertherm plasma every day to get the job done.
Las Vegas (PRWEB) March 05, 2014
Hypertherm, a U.S. based manufacturer of advanced plasma, laser, and waterjet cutting systems, has unveiled the new Powermax30® XP metal cutting system at the 2014 CONEXPO-CON/AGG show for construction industry professionals.
The new system delivers high performance in a small portable package. Features include a two-inone design for high power cutting on thicker metal and detailed cutting on thinner metal using FineCut® consumables. The recommended cut capacity is 3/8" (10mm) with a severance capacity of 5/8" (16mm) making it ideal for framing walls and ceilings; fabricating roof or floor trusses; and installing roofing, siding, and decking. Construction crews can use the system to quickly cut galvanized steel channels and corrugated steel panels to length. Plus, they can create holes and openings for running conduit, installing vents and adding skylights. The system is also beneficial when repairing a variety of construction equipment, both in the shop and in the field.
In addition to the Powermax30 XP, Hypertherm is showcasing its Powermax125®, a cutting and gouging system that offers the most power of any portable air plasma available today. It features a 1½ inch recommended cut capacity and the ability to sever 2 ¼ inch thick metal, while boasting a full 100 percent duty cycle. It is the contractor's choice for heavy duty fabrication and repair, including plant shut downs. Also on display, more Duramax torch options, including new long-handled plasma torches for cutting skeletons, scrapping, dismantling and other similar jobs.
This year's show continues through March 8 in Las Vegas. In total, more than 125,000 construction companies and industry professionals are expected to pass through the city's convention center for a look at the newest and best equipment for their industry. Hypertherm is exhibiting from booth 64806 in South Hall 2.
"Hundreds of construction professionals rely on Hypertherm plasma every day to get the job done," said Reese Madden, director of North American marketing for Hypertherm. "We look forward to showing them our newest lineup of Powermax products and introducing new customers to the many benefits of Hypertherm's plasma technology."
Hypertherm designs and manufactures advanced cutting products for use in a variety of industries such as shipbuilding, manufacturing, and automotive repair. Its product line includes plasma, laser, and waterjet products, in addition to CNC motion and height controls and CAM nesting software. Hypertherm systems are trusted for performance and reliability that result in increased productivity and profitability for hundreds of thousands of businesses. The New Hampshire based company's reputation for cutting innovation dates back more than 45 years, to 1968, with Hypertherm's invention of water injection plasma cutting. The associate owned company, consistently named one of the best places to work in America, has more than 1,300 associates along with operations and partner representation worldwide.
Find us on the web at http://www.hypertherm.com.