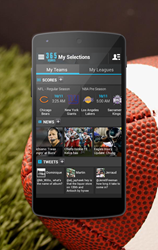 365Scores is the only app that connects every aspect of sports, creating a personalised sports channel allowing fans to select specific teams and leagues and follow them right from the app.
(PRWEB) March 06, 2014
The problem is a complex one, but the solution luckily is not. Sports fans have to use many different sports apps to fuel their sports hunger, but what if there just needed to be one?
365Scores offers a personalised sports service. Fans pick their teams and their leagues from a choice of 10 sports. The sports include Football, Baseball, Basketball and Hockey, so they are never far away from the action. In fact, 365Scores puts the fans right in the middle of the action.
Every detail of sports is offered, with news from the USA and around the world, tracking of all the trades and latest tweets from teams and players. Never miss out on the games on TV with schedules for all matches available in the app. See all the scores with built in Video Highlights, 365Scores is the only place a sports fan needs to go to get the most complete sports companion.
365Scores' key benefit for its users is its free real-time live push notifications. Fans will never miss any important match events ever again as they receive goal alerts and videos for supported teams plus referee decisions, overtime, and final score. Video highlights are available after the game, allowing them to catch up with the best bits of the game.
Globally minded sports fans can follow all the live games from around the world in the live scores section, safe in the knowledge they are up to date with the latest scores. The Standings and Fixtures section lets you track team progress and look ahead. Useful for your fantasy picks.
Its all great, but what about other like-minded sports fans? 365Scores has that covered too, with the in match commenting system. Pick the match winner, share with friends, then chat with team fans.
365Scores is proud to announce more than 2 million active users. We have also reached over 100,000 positive ratings in the App Store and Google Play Store. "This is a great achievement for us, but we hope to get our app in to the hands of more sports fans, so the work is only beginning."
There is a lot of sport coming your way, and you need an app that is on your side. 365Scores is that app