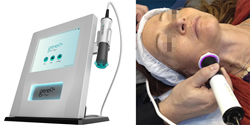 geneO+ is working out like no other device I've ever bought. I was able to pay it off in two months.
Tel Aviv, Israel (PRWEB) March 06, 2014
The geneO+ is the latest innovation by Pollogen Ltd., a global leader in the medical aesthetic market. Powered by OxyGeneo Technology, the geneO+ redefines treatment possibilities as it performs three anti-aging steps simultaneously. It exfoliates the outer layer of the skin, allows for the infusion of essential revitalizing nutrients and stimulates the skin to naturally oxygenate the treatment area. The oxygenation process exponentially increases the absorption level of the revitalizing formulas. The anti-aging results are visible after the very first treatment – the nourished skin is softer, has a glowing complexion and there are marked improvements in its elasticity and tone.
Designed for skin care professionals, treatments are cost-effective and practitioners can expect a fast return on investment. The geneO+ is easy to use, compact and portable and has a smart-touch platform that makes treatments fast and simple. The system delivers outstanding results in a quick "walk-in/walk-out" treatment that doesn't interrupt the patient's busy lifestyle. Depending on their preference, aesthetic practitioners can offer their patients either a single treatment with immediate results or a series of treatments for enhanced results. For seamless integration into any clinic, the geneO+ can be used as a stand-alone solution or combined with other aesthetic treatments.
Pollogen Ltd. will be exhibiting (booth #311) in the upcoming International Esthetics, Cosmetics & Spa Conference (IECSC) held on March 9-11, 2014 in New York. The show is one of the premier spa and wellness events in the USA and helps set the tone for the industry.
Jenina Olszewska from Janina's Aesthetics in Toronto Canada is a real geneO+ fan: "geneO+ is working out like no other device I've ever bought. I was able to pay it off in two months. My clients are extremely satisfied with their results, noticing diminished lines and lighter pigmentation marks, less break outs and smoother skin. I had few clients calling me the day after the treatment and thanking me for the outcome."
Mr. Amichai Bar-Nir, Pollogen's CEO, commented: "The geneO+ and the OxyGeneo technology are exciting breakthroughs in the field of skin rejuvenation. Skin care professionals can now offer their patients an advanced solution that improves their skin tone and texture and slows down the signs of aging. These changes are not just cosmetic – they affect a person's sense of wellbeing and their quality of life. We are delighted that over 90% of patients are satisfied with the results and we will continue to develop products that drive the industry forward."
About Pollogen:
We believe in constantly challenging ourselves to create the most advanced, effective medical aesthetic technologies and solutions. We believe in thinking differently.
In everything we do, we take a customer-centric approach by making our products user-friendly, safe and convenient. At Pollogen there is no such word as "done"; we continually perfect our solutions to provide treatments that are pleasant and effective. We believe in finding ways to develop technologies that work with the body's natural mechanisms so beautiful results are generated from within.
Pollogen is the developer and manufacturer of five revolutionary technologies under the industry premier brand names OxyGeneo™, Hybrid Energy™, TriPollar®, TriLipo® and TriFractional™. We offer a full line of clinically-proven, safe and effective, non-invasive anti-aging facial and body contouring treatment platforms for a wide range of aesthetic applications. Pollogen provides solutions for professionals in over 60 countries, addressing the specific needs and dynamic changes unique to the ever-evolving aesthetic industry.