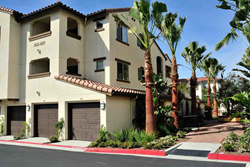 Jamboree completed three Orange County projects that had a huge impact on workforce housing production –Doria, Park Landing, Birch Hills– which add 259 apartment units to the County's affordable housing inventory. - Laura Archuleta, Jamboree President
Irvine, CA (PRWEB) March 08, 2014
Jamboree Housing Corporation, one of California's leading community development organizations specializing in affordable housing, announced the grand opening of Doria Apartment Homes Phase II in Irvine. Designed for workforce families who earn 30% to 60% of area median income (AMI), Phase II encompasses 74 apartment homes. The first phase of Doria has 60 apartments and was completed in late 2011. Doria features three-story, garden-style buildings designed around a central courtyard, and its Spanish Colonial-inspired architecture integrates seamlessly with the aesthetic fabric of the surrounding Stonegate community. In addition to Doria, Jamboree completed two other Orange County projects that had a huge impact on workforce housing production – Park Landing in Buena Park and Birch Hills Apartment Homes in Brea – which along with Doria Phase II add 259 apartment units to Orange County's affordable housing inventory.
Doria is the first rental property to be developed and completed by Jamboree in joint venture with the Irvine Community Land Trust (ICLT), the only land trust established by a cooperative municipality in Southern California. Together, the two Doria phases include 20 apartment homes for residents with special needs, with funding provided by the Mental Health Services Act (MHSA) administered by the County of Orange.
Doria is in step with the national healthy communities movement, which encourages development of quality housing within walkable neighborhoods close to parks and recreation facilities, and abundant green space. Developed by The Irvine Company and designed for exercise and a healthy lifestyle, Stonegate Village encompasses seven neighborhood parks connected by lushly landscaped pedestrian paths.
Residents have ample space to gather in the existing 3,000-square-foot Doria community center that features both large and small meeting areas, management offices, a kitchen, computer lab, and tot lot. The adjacent community center pool features a handicap lift.
In the wake of the redevelopment funding demise, public/private collaboration between the City, the ICLT, The Irvine Company and developers such as Jamboree is why Irvine continues to boast one of the highest ratios of affordable housing units to market-rate housing in Orange County, according to the Orange County Business Council's 2012 Workforce Housing Scorecard, its latest report. The completion of Doria Phase II is a strategic step in realizing the City's and ICLT's goal to provide 5,000 new units of permanent affordable housing in Irvine by 2025.
Known for its resourcefulness with the use of public/private partnerships, Jamboree's development of Doria is a premier example of creative financing to fund workforce housing in the post-redevelopment environment. Phase II is also one of five affordable housing developments in Orange County which incorporates State MHSA funding towards the County's goal of creating 185 homes for special needs residents; 10 of the 83 State MHSA- funded units to date have been developed by Jamboree.
In Jamboree's ongoing commitment to sustainability, Doria's Phase II is designed to achieve a LEED (Leadership in Energy & Environmental Design) for Homes certified Gold rating. This lowers energy consumption, provides a cost-saving benefit, and promotes the health of residents. Each Doria home is equipped with an ENERGY STAR refrigerator, dishwasher, microwave and stove, and the property exceeds California's Title 24 energy efficiency standards by 15%.
Resident services are provided onsite by Jamboree's Resident Services Group. Offered at more than 30 of its properties, Jamboree's onsite resident services coordinator will provide services tailored to the specific needs of Doria residents that foster learning, health, and community building to enrich their quality of life. The inclusion of fully funded, ongoing supportive services will enable the handful of residents with special needs to live in permanent housing. The Orange County Healthcare Agency will assist residents with 24/7 support of daily living activities, job placement assistance, and links to other supportive and independent living services. HOMES, Jamboree's Resident Services Group for Special Needs, ensures that services are customized and supplement services provided by Telecare South, the Orange County Healthcare Agency's Full-Service Partner, meet the needs of these residents.
About Jamboree: Founded in 1990, Irvine, CA-headquartered Jamboree Housing Corporation is an award-winning, nonprofit community development company that develops, acquires, renovates and manages permanently affordable rental and ownership housing throughout California for working families, seniors and people with special needs. HOMES, Inc. and Housing with HEART are 501(c)(3) organizations and comprise Jamboree's Resident Services Group. A leading nonprofit developer, Jamboree is committed to sustaining excellence with high quality affordable housing that benefits the environment, the economy and local communities. It currently has about $233 million in affordable housing projects in its development pipeline and a $1 billion asset portfolio that includes the development of and/or ownership interest in more than 7,000 homes in more than 70 California communities. Currently, Housing with HEART programs and services that foster learning, health and community building are offered at 30 Jamboree communities with designated staff at each location. For more information, go to http://www.jamboreehousing.com.