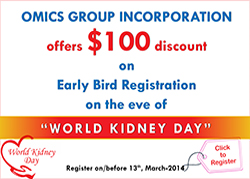 World Kidney Day 2014 celebration by OMICS Group Conference: providing discounts on registration.
Henderson, Nevada (PRWEB) March 07, 2014
Third International Conference on Nephrology & Therapeutics, OMICS Group Conference to be held from June 26-27, 2014 at Valencia, Spain, is celebrating World Kidney Day by giving discounts on registration till March 13th 2014.
Nephro-2014 conference reported that anyone can register on or before March 13th, 2014 to avail these discounts.
Nephrology International Conference 2014 is excited about the celebration of World Kidney day and is encouraged by the organizing committee members to take an advanced step towards improving renal health and approaches in Nephrology. Hence, Nephro-2014 is designed with the theme: "Identifying & understanding the new, advanced approaches in Nephrology for better renal health".
Dr. Srinubabu Gedela, Managing Director and CEO, OMICS Group International addresses, "I am very excited towards the World Kidney Day. The celebration was driven by the fact that several latest evidence based technologies have emerged in recent years to help the physicians to detect and treat renal failures at an early stage and that the chronic diseases can be avoided altogether. Right from developing a clinical algorithm to liver-kidney transplantation, several latest advancements in Nephrology are successfully addressing the concerns of renal failures."
Nephro-2014, the conference itself and its theme will be supported by OMICS Publishing Group's journals. OMICS Group international medical conference will observe various eminent keynote speakers at the conference. Some of the names will include: Alberto António Caldas Afonso, President, European Society for Pediatric Nephrology, Portugal; Halima Resic has, President, Society for Nephrology, Dialysis and Transplantation, Bosnia and Herzegovina; Anil K. Mandal, Founder, Mandal Diabetes Research Foundation, USA; Samy L. Habib, Cellular and Structural Biology, The University of Texas, USA.
Major tracks and highlights included in this conference will be: Hypertension, CKD and Diabetes; Renal Transplantation; Dialysis in renal disorders; Glomerular diseases; Genetics in kidney diseases; Fluids & Electrolytes; Chronic & Acute Renal diseases; Treatments in Nephrology; Diet, Lifestyle changes; and Metabolic disorders and Nephrology.
Nephrology International Conference 2014 organizing committee said that the conference will also host Young Researchers Forum which will provide young researchers with the possibility to meet and discuss research topics and methodologies, share and develop ideas, learn from each other and gain knowledge from senior researchers. Apart from this there will be Poster Competition to encourage students and recent graduates to present their original research which will be later published in the OMICS Group Journals.
"Attending Nephro-2013 was a most rewarding experience that allowed a rich discussion of ideas and experiences. I will be looking forward for Nephro-2014," writes Dr. Jose L. Reyes, Mexican Board of Nephrology, Mexico. Another speaker, John Ferns, Edinburgh University, United Kingdom, at the 2013 Nephrology Conference addressed that "OMICS' Nephro-2013 conference is an excellent platform to showcase your research. I would thoroughly recommend it as the staff was exceptionally kind and helpful."
OMICS Group International has been organizing such 100 and more international scientific conferences all around the world and is happy with its expansion from USA, India and China to International conferences in Spain, UK, Germany, Italy, Mexico, Brazil, Singapore, Canada, Dubai, and Australia. With a support of more than 30000 scientists, OMICS Group is also publishing more than 350 open access and scholarly journals which are free to access online.
Nephro-2014 declared that it will be an exciting and rewarding event with practical workshops and parallel sessions covering the broad arena of medical and technological Nephrology, providing rich opportunities for networking and fostering Nephrological scientific research.
For additional information on the news that is the subject of this release (or for availing aforementioned discounts), contact James Crawler at nephro2014(at)omicsgroup.(dot)us or visit the conference website at http://nephrology2014.conferenceseries.net/index.php.
OMICS Group Conferences
2360 Corporate Circle
Suite 400 Henderson
NV 89074-7722, USA
Ph: +1-888-843-8169
Fax: +1-650-618-1417