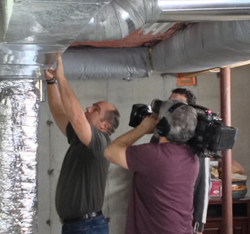 The DOE has ranked aeroseal to be one of the most cost effective things homeowners can do to realize home energy savings.
Centerville, OH (PRWEB) March 11, 2014
The use of Aeroseal, a new duct sealing technology that seals from the inside, will be featured on an upcoming segment of the PBS show Ask This Old House. Scheduled to air on March 20th, 2014, the segment takes a close look at this innovative technology and shows it being applied to help a Boston-area family increase the room-to-room comfort and reduce the heating and cooling costs of their home.
Taped this past fall, the duct sealing segment provides homeowners with a look at the aeroseal process and insights into how duct leaks can affect the energy use, comfort and healthiness of a home. This Old House's HVAC expert, Richard Tretheway, shows viewers what to look for when considering duct leaks and walks them through the sealing process, including a look at the computer program that provides real-time results of the duct leakage rate.
"If you have rooms in your house that never seem to get enough heat in the winter or air conditioned air in the summer, chances are, you are leaking treated air through holes in your ductwork," said Aeroseal's Neal Walsh. "Not only is that a comfort issue but it also means you are throwing money away every time you turn on the furnace or air conditioner.
The U.S. Department of Energy estimates that between 60 percent and 85 percent of U.S. residential homes could realize significant energy savings benefit from duct sealing.
The Ask This Old House segment on aeroseal duct sealing will be featured on Season 12 / episode 20 of the program, which is schedule to air March 20th on local PBS channels. Since some public stations set their own broadcast schedules, the exact airing times may differ for different cities. To find the specific air date and time for your location, visit http://www.thisoldhouse.com/tvschedule.
Starting on March 24th, viewers will be able to watch the entire episode online at http://www.thisoldhouse.com/watchasktoh.
For more information on aeroseal technology, visit http://www.aeroseal.com.