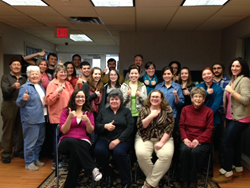 If there's one thing I've learned in twenty years of being a small business owner, it's that a good attitude is the single most important key to longevity.
Wood-Ridge, New Jersey (PRWEB) March 10, 2014
When Writer's Relief President Ronnie Smith first told friends about her idea to start a business helping creative writers make submissions, some people scoffed.
"My best friend had come to me asking for help submitting her poems to literary journals because she couldn't find anyone else," Smith said. "I realized that writers needed an advocate and partner who could manage the submission process for them. Nothing like that existed at the time."
Making submissions to literary journal editors and to literary agents requires an intense amount of focus, analysis, and time. And, according to Smith, her clients would rather be writing than spending hours on the paperwork and research involved in submitting for publication.
"Everyone told me, 'There's no money in that kind of work,'" Smith said. "But I felt very drawn to the idea of making a difference in writers' lives. I knew from my writer friends that they needed more time to write and that they got bogged down with research and paperwork. They weren't the best at marketing their own work. I knew that I was the right person to help creative writers when everyone else was ignoring them. I could create a sustainable business that fit a need and that gave me a sense of pride in my work."
Writer's Relief started out as a two-woman business set up in Smith's mother's garage in Little Ferry, New Jersey. She and her mom worked from that garage until they moved into a small office in a nearby town. Smith learned a lot about the publishing industry very quickly and now, twenty years later, has extensive experience helping writers achieve their dreams of publication. In 2012, Writer's Relief established a sister company, Web Design Relief, which specializes in affordable Web design for authors.
Writer's Relief currently has over twenty employees and is now located in Wood-Ridge, New Jersey. Their prior office in Hackensack was destroyed by Superstorm Sandy.
Smith recalls: "I went into work the morning after the storm and found a rowboat on the sidewalk in front of the door. The first floor of the building had flooded, but so had the second, where our business was located, because the roof had blown off. Almost everything was destroyed by wind and rain."
Within forty-eight hours, Smith had moved her entire infrastructure to a temporary headquarters. "We hadn't missed a deadline for our clients since I started the business in 1994. I wasn't about to let a hurricane get the best of us."
To celebrate Writer's Relief's twentieth anniversary, Smith and her team of specialized personal assistants will be offering their new book, The Happy Writer: Your Secret Weapon Against Rejection, Dejection, Writer's Block, And The Emotional Pitfalls Of The Writing Life, at a deeply discounted price.
Many writers struggle with isolation, frustration, and despair. "This book is a labor of love for us," Smith says. While the submission strategists at Writer's Relief have always offered lots of support and encouragement to their private clients, The Happy Writer makes their practical, proven advice available to the public.
"If there's one thing I've learned in twenty years of being a small business owner, it's that a good attitude is the single most important key to longevity," Smith said. "That's the message we want to pass along to writers in our book."
Interested writers can purchase a copy of The Happy Writer on Amazon and can learn more about Writer's Relief at http://www.WritersRelief.com.
About Writer's Relief: Writer's Relief is a highly recommended author's submission service that has been serving the creative writing community since 1994. The company helps book authors with the process of submitting their work to literary agents, and helps writers of poetry, short stories, and essays in submitting to literary journals for publication. Clients are accepted by invitation only and have included award-winning best sellers and promising unknowns. Writers are invited to take advantage of the many free resources on the website, including free publishing leads and submission strategy tips.
CONTACT:
Ronnie Smith, President
Writer's Relief, Inc.
207 Hackensack Street
Wood-Ridge, NJ 07075
(866) 405-3003
http://www.WritersRelief.com
info(at)wrelief(dot)com