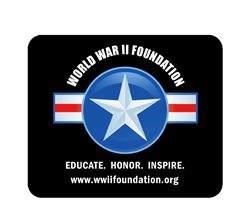 The Programming Excellence Award is the major honor given nationally by American Public Television, so it's incredibly humbling that we have been recognized for our efforts to date, said Tim Gray.
Kingston, Rhode Island (PRWEB) March 11, 2014
American Public Television has awarded a National Programming Excellence award to the Rhode Island-based World War II Foundation for its series of documentary films chronicling the personal stories of the WWII generation.
The award is the highest honor given to an organization or production company that provides APT with television programming for its global TV audience, including hundreds of PBS affiliates in the United States.
Currently, the WWII Foundation, in partnership with Tim Gray Media, has ten films with APT under its World War II Preservation Series banner. Two of the documentary films have won regional Emmy Awards, while two others have been recognized with Indie International Film Fest awards.
Five more World War II documentary films are scheduled to be delivered to APT by TGM and the WWII Foundation in 2014-2015.
"The Programming Excellence Award is the major honor given nationally by American Public Television, so it's incredibly humbling that we have been recognized for our efforts to date," said Tim Gray.
"I work with a very talented editor and photographer in Jim Karpeichik, who travels the world with me to find and document these stories. Jim is the best at what he does and I'm fortunate to have his videography and editing talent," Gray said.
"The end results are award-winning high-definition (HD) documentary programs that we feel do justice to what the men and women of World War II experienced on a personal level."
National Programming Excellence Awards are determined by a combination of criteria, including: importance, content, ratings, carriage (television stations that pick up the program) and production excellence.
"We are running out of time to tell these stories and preserve them for another generation. In just a few years all these men and women will be gone and their voices silenced, so our work is very time sensitive," Gray continued.
Over the past couple of years, documentary films offered by TGM and the World War II Foundation have ranked in the top 5 of most requested programs by PBS affiliates around the country.
The WWII programs also have an international audience on APT's Worldwide Channel. "I can't thank APT enough for being the perfect partner for our films and the international message we hope to convey," Tim Gray said.
"The interest is there globally to hear from these heroes and survivors now," Gray continued. "We want these stories to be seen now, not later. We want the WWII generation to know how much we appreciate what they did and also motivate a younger viewer that now is the time to go and ask their father or mother or grandfather or grandmother what they did in the war," Gray emphasized.
"We want these films to also be utilized in the classroom by teachers as part of their curriculum. We live in a very visual society and these films, all under an hour, explain how personal World War II was to those who experienced it," Gray continued. Tim Gray Media and the WWII Foundation have filmed on location in the Solomon Islands, Guadalcanal, the Russell Islands, the Philippines (Bataan, Corregidor and Manila), France, Belgium, Holland, Luxembourg, Poland and Germany, as well as various locations in the USA, including Pearl Harbor in Hawaii.
The WWII Foundation has traveled to many of these important locations in WWII history more than once and has visited Normandy, France 10 times in the past few years to document the stories of D-Day.
Damian Lewis Backs WWII Foundation Efforts
Just recently, Emmy Award-winning actor Damian Lewis, best known for his role as Major Dick Winters in HBO's Band of Brothers and as Marine Sergeant Nicholas Brody in Showtime's Homeland series, agreed to become the global spokesperson for the World War II Foundation.
"Damian has been a great supporter of the WWII Foundation's efforts to chronicle the stories of the entire World War II generation," said Tim Gray. "Damian's work is recognized around the world and I could not be happier to have someone of his talent and graciousness represent our foundation."
"I support the [World War II Foundation's] important goal of honoring the veterans of WWII," said Damian Lewis.
Narrators of some of the WWII Foundation's films include: Lewis, Dan Aykroyd, Dale Dye, Tom Kane, Peter Kessler and well-known Canadian voice Dug Joy. In 2014, Baseball Hall of Fame Broadcaster Tim McCarver will also narrate a WWII Foundation/TGM documentary on the 70th anniversary of D-Day.