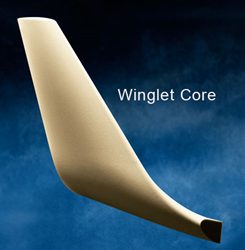 We remain committed to supplying products that consistently conform to customers' specifications at delivery – and over time.
Tacoma, WA (PRWEB) March 09, 2014
General Plastics Manufacturing Company will participate in JEC Europe March 11-13 in Paris – the largest networking event for composites professionals in Europe. The JEC Europe Composites Show and Conference is expected to attract attendees representing more than 1,200 companies and 90 countries. General Plastics will spotlight its rigid, high-density polyurethane foams within the Washington State Department of Commerce booth, M63c in the US Pavilion.
The company will feature the following flame-retardant, rigid closed-cell foams:
LAST-A-FOAM® FR-6700 Aerospace-Grade Series – This flame-retardant rigid foam for aircraft composite core withstands process temperatures up to 250ºF. It is an excellent choice for models and design prototypes, vacuum-form dies and mold patterns, and honeycomb edge closeout for aircraft interior sandwich panels.
LAST-A-FOAM® FR-3700 Precision-Core Series – Tougher and less friable than the FR-6700, this flame-retardant, aerospace-grade (BMS 8-133-qualified) foam enables cutting of crisper edges. This quality makes it well-suited to machining complex shapes for composite cores.
LAST-A-FOAM® FR-4300 Thermoformable Board Series – This flame-retardant foam series is ideal for composite panel cores and other structures where compound-curved surfaces or other details can be made with low-cost heat-forming methods.
Driving expanded interest in alternative materials
"We're experiencing increasing demand for our low-weight, high-strength polyurethane foams to replace traditional core materials, such as thermoplastic foam, honeycomb and wood," noted General Plastics President Bruce Lind.
The company's composite core materials have been used for years in the aerospace and automotive industries in place of aluminum, as well as for sports equipment, such as hockey blades and skateboards. In the marine industry, General Plastics composite core foams provide a lightweight, non-decaying alternative to wood that supports fiberglass laminating production processes.
"After 60 years of experience in the composites industry, we clearly understand the exacting standards of OEMs and the imperative of rigorous quality assurance in their choice of composite core materials," said Lind. "We remain committed to supplying products that consistently conform to customers' specifications at delivery – and over time. General Plastics customers also know they can depend on us for fast turnaround and scalability to meet the demands of OEM production."
About General Plastics Manufacturing Company
Tacoma, Washington-based General Plastics has been a leading innovator in the plastics industry for more than 70 years. The company develops and manufactures rigid and flexible polyurethane foam products, which include its signature LAST-A-FOAM® brand series and build-to-print composite parts. Through its network of distributors, General Plastics exports products to 25-plus countries for the aerospace and defense, nuclear containment, composite core, prototype and modeling, construction, dimensional signage, testing, marine, and renewable energies industries. General Plastics is certified to ISO 9001:2008/AS9100C and meets such demanding quality systems as NQA-1, Mil-I-45208A and Boeing Company D6-82479. Visit http://www.generalplastics.com.