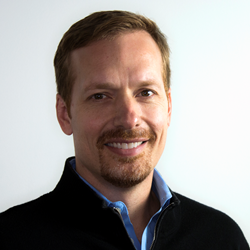 Blair has a proven track record of working hand-in-hand with premier brands to develop winning marketing strategies in an environment being forever transformed by digital
Philadelphia, PA (PRWEB) March 10, 2014
LeadiD, the first neutral, privacy-friendly, trusted arbiter of lead transactions, today announced a significant addition to its executive team with the appointment of Blair Lyon as Chief Marketing Officer. Lyon will develop and lead the company's overall marketing strategy, brand evolution, and go-to-market strategies for data-driven solutions designed to meet the needs of education, mortgage, insurance and other billion-dollar consumer industries.
"Blair has a proven track record of working hand-in-hand with premier brands to develop winning marketing strategies in an environment being forever transformed by digital," said Ross Shanken, LeadiD CEO. "LG, Best Buy, Northwestern Mutual, Charles Schwab, Eli Lilly, Allstate -- the companies he has worked with are real who's who in brand marketing. We expect Blair to bring tremendous value to LeadiD and our clients because he excels in addressing the complexity of marketing challenges in today's digital, multi-channel business environment."
Lyon comes to LeadiD with over 21 years of experience building high tech start-ups and delivering award-winning marketing solutions for the Fortune 1000. Before joining LeadiD, Lyon was Vice President of Marketing at Monetate, Inc., the leading digital personalization and customer experience solution for Best Buy, Nike, Macy's, and other marquee brands. Prior to Monetate, Lyon spent a decade as the Founder and CEO of TMX, building an award-winning interactive agency with a patented technology platform for interactive rich media. Earlier in his career, Lyon was a founding member and the head of marketing for DuPont ESnet, a new venture division dedicated to streamlining the development cycle for leading apparel retailers with their global supply chain. Lyon began his technology career at CAD software developer CDI, rising to Far East Director of Business Development where he was responsible for bolstering sales and building the company's infrastructure along the Pacific Rim.
"LeadiD is an essential component for improving not only a brand's marketing performance, but also providing a better end-to-end consumer experience," said Lyon. "I look forward to helping LeadiD clients harness the tremendous potential of a transparent customer acquisition process powered by data insight they can't get anywhere else."
About LeadiD
Founded in January 2011 by Ross Shanken, LeadiD is the only independent, neutral, open technology platform, which tracks the origin and history of every lead event that utilizes the LeadiD system. No supplier-proprietary data is exposed, but rather, LeadiD allows Lead Sellers and Lead Buyers to make real-time decisions based upon definitive origin and history flags that are predetermined. LeadiD fosters an environment of trust in the transaction, one where both Lead Sellers and Lead Buyers alike derive top-line value. With unmatched data, LeadiD is the industry standard for authenticating lead origin and history and the authentication platform of choice for firms of all sizes. LeadiD's presence at the source of a lead event has also positioned the company to add a TCPA solution to its product line that addresses the recent TCPA regulation changes. For more information, visit LeadiD.com or @LeadiD on Twitter.