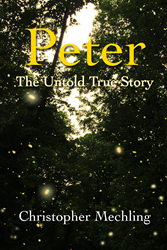 He is of low stature, not exceeding five feet three inches; and though he must be now about 70 years of age, [he] has a fresh, healthy look... - Lord Monboddo
San Diego, CA (PRWEB) March 09, 2014
Peter Pan is one of the world's most well-known and beloved fictional characters, but readers are now finding a whole new historical perspective on James Barrie's classic, by reading Peter: The Untold True Story, which tells the tale of Peter the Wild Boy, a real-life Boy Who Would Not Grow Up who lived in 18th century England, more than a hundred years before Peter Pan was written. Author Christopher Mechling's new book about the real Peter is attracting thousands of readers worldwide, and is currently featured as the #1 most popular book in Goodreads' First Reads program. Now through March 16th, readers can enter to win 1 of 3 signed hardcover copies of the book.
Mysteriously, in the introduction to his published work, James Barrie suggested that he could not recall writing Peter Pan, his most famous character. "I have no recollection of writing the play of Peter Pan, now being published for the first time so long after he made his bow upon the stage," Barrie wrote. Perhaps that is because before Peter became a fictional character, he was a real-life Wild Boy, who lived more than a century before Barrie wrote his fairy tale.
Peter: The Untold True Story may finally resolve the mysteries that Barrie teased at. A feral child, like Mowgli or Tarzan, Peter the Wild Boy lived alone in the forests of Germany to the age of twelve. When he was discovered, he became a public sensation, and soon drew the interest of George I, King of England and Elector of Hanover. King George called for the boy to visit Herrenhausen Palace and put on a banquet in his honor. This proved to be something of a disaster, according to some courtiers, but the King was nevertheless charmed by Peter's innocent, intuitive nature, and decided to bring him to England, to introduce him to court society.
When he arrived in London, Peter became the talk of the town, to the extent that Jonathan Swift wrote in exasperation, "there is scarcely talk of anything else," and the Royal Family fell in love with Peter. In particular, Caroline of Ansbach, the future Queen of England, took an interest in the boy, and resolved to raise him to be a proper English gentleman.
Peter stayed with the Royal Family in their residences for several years, and during this time the recently established Kensington Gardens, among other parks, offered the Wild Boy an occasional touch of nature in the midst of the city. Ultimately it was concluded that Peter would be happier living closer to nature so the Royal Family made arrangements for him in the countryside, where he continued to receive their patronage throughout his long life, which spanned the reigns of three Kings (all named George). Into his seventies, Peter remained strong physically and youthful in his appearance. "He is of low stature, not exceeding five feet three inches; and though he must be now about 70 years of age, [he] has a fresh, healthy look..." wrote Lord Monboddo, an evolutionary theorist who met Peter.
Reviewers on Goodreads say: "If you are a Peter Pan aficionado, then this is the book for you- Roxie." "I loved this book... I could not put this book down- Jenny." "A very sweet and heart-warming light read- Shibbi." "This is a wonderfully magical book. It makes you look at life in a different way and how you can still be a kid at heart. We are forced to grow old, but we don't have to grow up- Jillian." "Very uplifting and definitely a feel good read- Natalie." "I became emotionally attached to Peter throughout the book. I caught myself trying to find out the secrets of peter and about his past. The book will never leave me as it is so magical and recommend people to read it, the book will still be in your mind long after you've finished it!- Hollie"
Peter: The Untold True Story is an enchanting tale full of humor, love, and courage in the face of life's difficulties. It will make you laugh, cry, dream and remember what it means to be young. Books are available for sale in hardcover for $29.99 through Barnes and Noble, Amazon, and the author's website. It is also available as an e-book for $9.99 through the Apple iBookstore and Amazon Kindle.