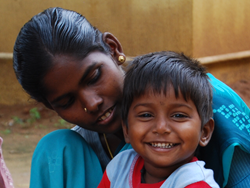 Gender isn't an isolated "impact sector" but in fact cuts across all of our investment areas—access to finance, global health, and environmental sustainability.
Bethesda, MD (PRWEB) March 11, 2014
Calvert Foundation announced today that it has surpassed $20 million in loans to organizations that empower women through affordable housing, access to finance, healthcare, education, and environmental stewardship.
The Women Investing in Women Initiative (WIN-WIN) launched on International Women's Day in 2012 with two goals: to lend $20 million to organizations around the world that empower women; and to offer an impact investment that anyone could use to invest in women. Since launching WIN-WIN, Calvert Foundation has made more than $20 million in loans; and more than 800 individual and institutional investors have invested between $20 and $10 million into the initiative.
Calvert Foundation President and CEO Jennifer Pryce commented, "We created WIN-WIN in response to what we saw in the investing marketplace—a real desire for an investment that directly supports women—and what we saw in our own lending portfolio; that many of our borrowers empower women through their programs and just weren't receiving recognition for that." Pryce continued, "WIN-WIN touched investors on a very tangible level. Our investment acts as a tool that they can use to express their interest and support for women."
Learn more about the WIN-WIN portfolio.
Citi Foundation and Criterion Institute played integral roles in the launch of WIN-WIN, providing financial support and a theory of change for investing in women. By layering a gender focus on top of Calvert Foundation's Community Investment Note, WIN-WIN became the first broadly available investment that empowered women.
"WIN-WIN was an 'Aha!' moment for us", said Pryce. "We realized that gender isn't an isolated 'impact sector' but in fact cuts across all of our investment areas—access to finance, global health, environmental sustainability, etc. With this focus in place, we can lift up organizations that are playing a pivotal role in enabling women to engage productively in society. And just as importantly, WIN-WIN showed us that connecting investors to a specific issue engenders a much stronger sense of engagement."
Building on the lessons learned and successes of the initiative, Calvert Foundation is developing a strategy for the next iteration of WIN-WIN, which will likely launch in 2015. 'WIN-WIN 2.0' will focus on the clean energy sector and its potential to create measurable benefits to women at the bottom of the pyramid.
About Calvert Foundation
For more than 18 years Calvert Foundation has empowered people to invest for social good. Through the Community Investment Note, our investors have facilitated the creation of thousands of jobs, classroom seats, affordable homes, and critical services in the U.S. and around the world. Learn more at http://www.calvertfoundation.org.