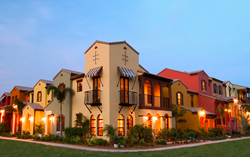 'The courtyards are enormously popular at Paseo and we sold three of the 10 units in the building immediately upon release,' said Clark. 'The four L-shaped buildings create a large open courtyard area.'
Naples, FL (PRWEB) March 10, 2014
With new home sales on the rise, Stock Development has released for sale a another new building of flats and townhomes at Paseo, the 2013 Community of the Year.
According to Tim Clark, Vice President of Sales for Paseo, the building is the second of four buildings that will comprise the fourth courtyard complex to be developed at Paseo Each ten unit building includes ten individual floorplans.
"The courtyards are enormously popular at Paseo and we sold three of the 10 units in the building immediately upon release," said Clark. "The four L-shaped buildings create a large open courtyard area. The fronts of the homes face outwards and feature front porches, while the garage is located in the rear of the home, overlooking the courtyard."
The richly landscaped courtyard will include a large free-form pool with custom furnishings. There will also be a large wooden trellis covering a brick paver deck complete with BBQ grills. They will be fully furnished deck with tables, umbrellas, chairs and comfortable patio lounge furniture.
Move-in ready homes are available across most of Paseo's residential offierings, giving homebuyers the chance to enjoy time in Southwest Florida before the close of the winter season. In addition, Stock has opened an array of beautifully furnished new single-family and multi-family models for 2014.
Flats and town homes, including two- and three-story designs, are available in a total of 14 floor plans with two, three and four bedrooms and two or three baths. These homes range from 1,227 to 2,084 square feet under air and include one and two car garages. The unique orientation of the homes provide a safe place for children to play and it creates a sense of community as neighbors congregate on their porches.
Paseo also offers six casita floor plans ranging from 1,531 to 2,080 square feet under air. Each casita features two or three bedrooms, two-and-a-half or three baths and two floors of living. The casita blends the ease and luxury of maintenance-free living with the privacy of a single-family home in residences that are built around a common driveway.
In the Esperanza neighborhood there are twin villas, as well as single-story, two-story and courtyard-style single-family homes available. Plans range from 1,575 to more than 3,100 square feet under air plus attached two-car and three-car garages. Luxurious pool and spa upgrades are available and the homes feature sweeping views of the Six Mile Cypress Slough and surrounding lakes.
Prices at Paseo begin from just the $180's.
The Village Center amenities include a full-service concierge, a bistro, an ice cream parlor, a pub, an internet café, a coffee shop, a 4,000 square foot fitness center, a business center and library, as well as spa services and a 90-seat theatre with a projection room and comfortable elevated seating.
The resort-style pool features a poolside gazebo serving meals and refreshments. Adjacent to the main pool is a large spa, a fitness-oriented lap pool and a children's water playground. The Sports Center includes six lighted, HydroGrid tennis courts, a fishing pier, four bocce ball courts and a basketball court.
The Paseo Sales Center is located in South Fort Myers at 11940 Palba Way Ft. Myers, FL 33912. From Daniels Parkway, one-half mile west of I-75 at exit 131, turn north on Palomino Lane. After 1.5 miles turn left on Penzance Blvd. Paseo's gated entry is one-half mile ahead on the right. Please call (239) 425-6777 or visit the community on the web at http://www.paseo-ftmyers.com for more information.