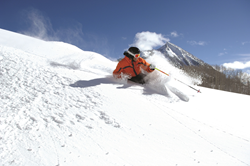 We are a great Colorado ski town and we will be breaking down with some fantastic music all over the mountain, all day long.
Mt. Crested Butte, CO (PRWEB) March 10, 2014
Skitown Breakdown encourages guests to spend a weekend in Crested Butte for some sun, skiing and great music. Saturday, March 22, will be a full day of rock at the resort. There will be music on the mountain throughout the day, with the final Skitown Breakdown concert featuring The Samples, opening for Matisyahu in the base area tent at 6:30 p.m.
The resort will host three free shows throughout the day at various locations around the resort. Beginning at 11 a.m. at Paradise on Crested Butte, guests can enjoy music and the outdoor barbeque on one of the largest sundecks in ski country. From there, head to the Ice Bar at Uley's Cabin for the second show at 1 p.m. Then at 3 p.m., Butte 66, in the base area, will be the place to spend après ski for more great music by local band Mine Control until 5 p.m. The all day springtime music celebration culminates with the official Skitown Breakdown concert with Matisyahu and The Samples as the opening act.
"Music and skiing or riding in springtime conditions go hand in hand," explains Scott Clarkson, vice president of sales and marketing at CBMR. "In the past, we hosted "Festevol" for our spring concert. Skitown Breakdown is replacing this great event with a name that truly identifies what we're doing. We're a great Colorado ski town and we will be breaking down with some fantastic music all over the mountain, all day long. It doesn't get any better!"
The shows throughout the day are free for all to sit on the outdoor decks, dance in the sunshine and enjoy the live music, among some incredible spring time ski conditions. Skitown Breakdown general admission tickets are $20 per person and can be purchased online at http://www.skicb.com/breakdown until Thursday, March 20 at 11:59 p.m., day-of tickets can be purchased in the resort's Adventure Center for $30 each. A VIP experience is available as well for $75 per person, which includes a special viewing area inside the venue, private bathrooms, private bar (with three free drinks included), and appetizers.
Lodging packages are also available, beginning at $115 per person per night, which includes one night at the Grand Lodge Crested Butte, a single day lift ticket and a general admission concert ticket. This special Skitown Breakdown package can be reserved online at http://www.skicb.com/breakdown or by calling Crested Butte Vacations at 800-600-2803.
About Crested Butte:
Nestled in the heart of Colorado's Rocky Mountains, Crested Butte is committed to preserving the pristine landscape and mountain lifestyle. With vibrant Victorian store fronts and expressive local characters, the small historic town remains true to its heritage and radiates an unparalleled welcoming and inviting spirit that celebrates a simpler life and time. Thanks to a widely diverse landscape, outdoor enthusiasts of all levels will find a new challenge with each visit. From world-class mountain biking, to legendary skiing and snowboarding, to a secluded fly-fishing experience, Crested Butte is one of Colorado's best-kept secrets. http://www.skicb.com
For more information about Crested Butte's lodging, conference, meeting facilities, and special packages, call Crested Butte Vacations, (800) 600-2803 or visit the web site at http://www.skicb.com.