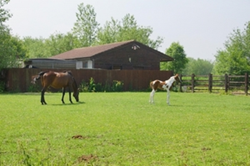 (PRWEB) March 11, 2014
Home And Recreation, in partnership with Our Family Fun Night, recently updated their "Beautiful Homes And Familes" section of the website with photos of the Blaine Tucker family. The post is part of an ongoing feature on the site.
"Our mission is to promote home and family," says Jason Locke, an editor and contributor to Home And Recreation. "The Beautiful Homes And Families feature is an effort to counteract all of the negative images that pervade the Internet, and the Blaine Tucker family is a perfect fit."
Home And Recreation first decided to create the Beautiful Homes And Families feature several months ago. According to editors of the site, they recognized that images and videos have taken over the Internet, and most of those images don't promote the kind of lifestyle that Home And Recreation represents.
"We're fighting back," says Jason Locke. "Our readers aren't interested in the kind of stuff that fills up most of the Internet, and neither are we. We want to direct people towards wholesome images of beautiful homes and families."
Wholesome entertainment has been the driving idea behind Home And Recreation since the site first came online over three years ago. Home And Recreation editors say that the "wholesome" niche is both fulfilling and profitable, claiming that their visitors are loyal and often contribute back to the site.
The Blaine Tucker family will be featured on Home And Recreation at least until the end of March, alongside other selected "Beautiful Homes And Families" for the month.
For people interested in recreational activities HomeAndRecreation.org is a blog that offers a platform for like minded people to share and discuss ideas, tips, news, and reviews on the important things that can help turn a house into a home. The site is the ideal destination for people who want to discover how small things can make big differences. Whether it's self help, public speaking, remodeling, interior design, art, gardening, outdoor recreation or indoor fun and much, much more it can be found by visiting HomeAndRecreation.org.