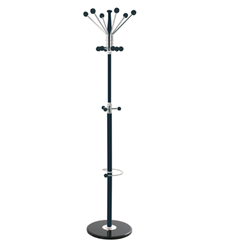 (PRWEB UK) 12 March 2014
Furniture in Fashion gets their another delighted customer, the Innovation centre of University of Hertfordshire's. The Innovation Centre has made the purchase of Wooden Coat and Hat Stand from Furniture in Fashion.
Furniture is not just limited for the décor of homes, but is very essential for commercial spaces as well. Furniture in Fashion provides various kinds of furniture which are elegant in design, thus to suit the office décor. Taking benefit of this fact the Innovation Centre at University of Hertfordshire has bought a coat and hat stand which is an essential accessory to be made available for people when they enter any place. The Innovation Centre provides office spaces for businesses which are in their growth stage and would particularly suit those businesses which are in the need for academic expertise. The centre is a 3 storey structure having 41 unfurnished office units and also having two meeting rooms.
A coat and hat stand makes organizing simple where you can keep your coats, hats and even put umbrellas in the containers which are provided as a part of the stand. There are available in many kinds where some can be attached to a wall, whereas others are an independent piece of furniture.
The University of Hertfordshire's Innovation Centre is now the proud owner of the Wooden Coat and Hat Stand. This stylish stand has a wooden coating in a natural mahogany finish which is adorned with jet black colour. The top section of the stand has six+six hooks, four hooks in the middle section and a round ring in the bottom for umbrellas and sticks. The stand has strong marble base which gives it firmness to remain steady. Especially in the times when the weather is unpredictable, this stand serves the best as it is a multifunctional unit which would efficiently hold coats, hats, umbrellas and sticks.
When the head of the centre was contacted for a feedback on the product and service provided by Furniture in Fashion, he said, " We are delighted with the fast delivery of the order, especially when the delivery was made even before the mentioned time. I would surely recommend Furniture in Fashion to others because it saves your shopping time and gives the best product without burning a hole in your pocket." On this the spokesperson of Furniture in Fashion commented by saying, "A happy customer is the real revenue for us as it would ensure repeated purchases in the future and also has higher chances of getting referred to others."
Furniture in Fashion is well known among their customers for providing a variety of products which are reasonably priced. It is one of the famous furniture stores in the UK having a strong online presence, thus buying furniture gets even easier. To grab a look at their products and services, please visit their official site at http://www.furnitureinfashion.net.