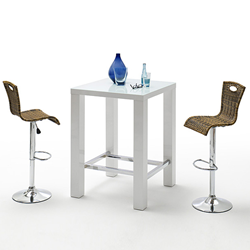 (PRWEB UK) 13 March 2014
Furniture in Fashion, one of the largest furniture stores in the UK, has recently sold bar tables and bar stools to their new customer, Boreham Wood Football Club.
With fashion being no longer limited to clothes or shoes, people have become conscious of the fact that the furniture should also be stylish to give their homes the best appearance. Due to this Furniture in Fashion is one of the favourite furniture stores of UK. They have gained this popularity in a very short span of time which has helped them capture the furniture retail market of UK and also other parts of Europe. A fact to support this claim is that the Boreham Wood Football Club has chosen Furniture in Fashion to provide them with bar tables and bar stools. Their home ground is the Meadow Park and they are nicknamed as "The Wood". At present, they play in the Conference South after having won the Isthmian League Premier Division in the year 2010.
It is said that the bar furniture gives insight into your personality, hence buying the perfect furniture for the bar can be a little complex task. But Furniture in Fashion helps you to make this task as simple as it can get, in the same way as they have helped Boreham Wood Football Club to buy Ocean Bar Tables and Pazifik Bar Stools.
Ocean Bar Tables are chic and good-looking, having a round shaped top surface. They are embellished with stylish chrome finish and contemporary design. They are available in many colours such as silver, pink, yellow, red, blue, cream and the traditional colours white and black. The height of the table is adjustable as per the need.
Pazifik Bar Stools have a unique and modern design which compliments the ocean bar tables flawlessly. These stools have a chromed steel structure with a plastic seat. With the smooth gas lift action the height of the seat can be easily adjusted to match that of the bar table. They also have 360 degree swivel design which allows one to move with ease.
They are available in the colours same as those of the ocean bar tables.
On receiving the delivery of the bar tables and stools, the spokesperson of Boreham Wood Football Club was asked for the feedback. He said, "The variety of bar tables and stools available with Furniture in Fashion is huge which ensures that every need of the customer is definitely satisfied. We got what we wanted without having to spend a lot of time searching for them and also without having to face the disappointment of unavailability of colours". This is one of the objectives which Furniture in Fashion pursues, that is to ensure that their customers have the best shopping experience.
Furniture in Fashion is a provider of quality furniture at affordable prices. To have a look at their product range please visit their official website today at http://www.furnitureinfashion.net. They also have their showroom at Farnworth, near Bolton. They assure their customers of quality furniture, wide range of products and fast delivery, all this at affordable prices.