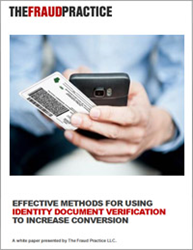 Modern systems turn any camera equipped device into a data capture tool. In most cases, verification takes less than a minute.
Sarasota, Florida (PRWEB) April 10, 2014
The new white paper from The Fraud Practice, Effective Methods for Using Identity Document Verification to Increase Sales Conversion" is geared towards merchants, financial institutions, and other organizations in the CNP space, both on the web and mobile.
Traditional ID checks sometimes fail, or are not available. This can happen for a number of reasons, and as a result many organizations choose to walk away from the sale, potentially losing revenue and insulting a good customer. The problem is even more prominent when it comes to international transactions; identity authentication services differ between countries, and the types of checks common in the United States might not be available. In these cases, ID document verification allows organizations to use one streamlined form of verification instead of a multitude of methods.
Identity document verification is not new, but while customers faxing in copies of ID cards and credit cards might make a merchant feel better, the process is generally moot. Few organizations have the knowledge to tell a real document from something edited in a computer, not to mention that it makes for a cumbersome customer experience.
Modern systems allow customers to upload photos through their cell phones, devices, or camera equipped computers, and the documents are verified in seconds. The vendors can also compare the photo on the documents with a photo of the customer. Most of these vendors also offer functionality to help consumers fill out sign-up forms through use of ID documents and to check out through an image of their credit card. These options are valuable on mobile platforms where typing is a burden to many.
To help companies better understand the methods for ID verification, The Fraud Practice has released a free white paper titled, "Effective Methods for Using Identity Document Verification to Increase Sales Conversion." The white paper can be requested from The Fraud Practice website, or by calling 941-244-5361.
The Fraud Practice is a privately held US LLC based in Sarasota, Florida. The Fraud Practice provides consulting services on eCommerce payments, fraud prevention, and credit granting as well as prepared research and online training for payment and fraud professionals. Businesses throughout the world rely on The Fraud Practice to help them build and manage their payment, fraud, and risk prevention strategies.
The Fraud Practice LLC
5255 Office Park Blvd Suite 107
Bradenton, FL 34203-3443
Direct: 941-244-5361
http://www.fraudpractice.com
http://www.cnptraining.com