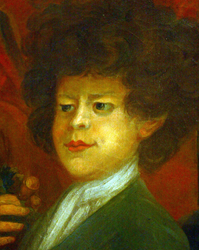 "To reveal who he really was would even at this date set the country in a blaze." - James Barrie
San Diego, CA (PRWEB) March 12, 2014
What if Peter Pan was not just make-believe? What if he was real? Author Christopher Mechling believes he has identified the historical Peter whose life inspired the legend of Peter Pan. His new novel, Peter: The Untold True Story, is attracting readers from all over the world. Discover the origin of Peter Pan, and the magical true life story of a feral child named Peter whose innocence, intuition and charm won the hearts of the Royal Family of England and made him famous more than a century before James Barrie wrote his classic work.
Thousands of readers have made Christopher Mechling's book the #1 most requested book in all categories in Goodreads' popular First Reads Program. Now through March 16th at Goodreads.com, readers can enter to win 1 of 3 signed hardcovers being given away to promote the new book.. The book is also available to purchase as a hardcover for $29.99 from Amazon, Barnes and Noble, and from the author's website, or as an e-book for $9.99 from Apple, Kindle or Nook.
Peter the Wild Boy lived alone in the forests of Germany to the age of twelve, when he was discovered, and brought to meet King George at Herrenhausen Palace in England. The King put on a banquet in honor of the boy's visit. This was reported by some courtiers to be a disaster because the Wild Boy knew nothing of court etiquette. The King was nonetheless charmed by the boy's spirit, and decided to take Peter to England and introduce him to court society.
Peter's fame preceded his arrival in England. Word of his unique origin and character had German imaginations running wild, and from the moment he set foot in London at the King's side, Peter was a sensation. The Royal Family fell in love with the Wild Boy. All of society was talking about him, to the extent that Jonathan Swift wrote in exasperation, "There is scarcely talk of anything else." Swift himself wrote extensively about Peter, as did Daniel Defoe, and other contemporary writers.
Caroline of Ansbach, wife of George II and future Queen of England, resolved to see Peter raised to be a proper English gentleman, and for that purpose employed some of the brightest minds of the Age of Enlightenment. For several years, Peter lived with the Royal family in their palaces, and roamed their parks, such as Kensington Gardens and St. James Park, as their guest. Ultimately, however, the Royal Family concluded that Peter would be happier living closer to nature, and therefore made arrangements for him in the countryside of Berkhamsted, where he remained under royal patronage until his passing in 1785.
Throughout his life, Peter remained strong physically and youthful in his spirit and appearance. "He is of low stature, not exceeding five feet three inches; and though he must be now about 70 years of age, [he] has a fresh, healthy look..." wrote Lord Monboddo, an evolutionary theorist who met Peter in his final years.
Peter: The Untold True Story is an enchanting tale full of humor, love, and courage in the face of life's difficulties. It will make you laugh, cry, dream and remember what it means to be young. Books are available for sale in hardcover for $29.99 through Barnes and Noble, Amazon, and the author's website. It is also available as an e-book for $9.99 through the Apple iBookstore and Amazon Kindle.