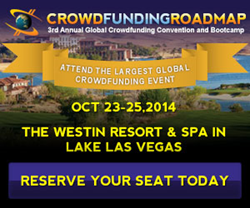 Las Vegas, NV (PRWEB) March 18, 2014
This event will once again be an incredible opportunity to learn about crowdfunding and the rules of the JobsAct from those who have raised millions of dollars and from the world leaders who are building this new billion dollar industry.
This three-day event, October 23-25, 2014, is for startups and entrepreneurs, business leaders and professionals who want to achieve the best crowdfunding education for themselves and their organization.
The 3rd Annual Global Crowdfunding Convention and Bootcamp offers a unique opportunity for potential crowdfunding entrepreneurs and small business owners to learn at the highest level.
Attendees will have countless opportunities to meet, network, and learn how billions of dollars have been raised using crowdfunding.
This is the only crowdfunding event in the country with this high level of education for every stakeholder involved. Attendees will have an opportunity to sign up for one of several "Crowdfunding Master Classes (TM) " which will provide invaluable training from top experts and coaches along with tools on how to implement what is learned.
1. Put on by CrowdU, the Crowdfunding College(TM)
This is a day-long course to Certify Crowdfunding Professionals ( "CCFP")
This course provides an educational platform and a solid foundation for industry professionals and other stakeholders who realize the importance of getting businesses funded and jobs created by means of recent changes to the status quo of antiquated, 80 year old securities laws. This accreditation program enables people to become Certified Crowdfunding Professionals ("CCFP"); qualified to assist businesses and investors, and even to lead training courses for others. This educational platform is for professionals in the financial, legal, marketing, brokerage and consulting industries as well as financial advisors, government officials, continuing education leaders and university professors. The coursework immerses CCFP candidates in all aspects of securities crowdfunding including rules, regulations, processes and methodologies.
2. For 300 Million New Investors: How to make a Title lll 4(a)(6) Investment decision in the new world of securities-based crowdfunding.
This class reviews the required material and explains what all this disclosure really means and how to review it correctly online.
What does a crowd swell mean during the campaign and should you follow the crowd and community of like-minded investors?
What is due diligence and the investors responsibility in evaluating a stock's investment potential?
How to review risk factors and so much more.
3. Keys to Successful Crowdfunding for Startups and small business owners.
This program was created by the founders of the crowdfunding movement in America , Sherwood Neiss and Jason Best, to help crowdfund your idea or dream into a successful business. Billions of dollars are now expected to flow into startups and small businesses because of this new law and for the first time in history.
You simply can't find a more comparable hard-hitting Crowdfunding event with an impactful global lineup of speakers, amazing sponsors, educational sessions, and networking opportunities anywhere. This is a convention and bootcamp that will transform your business forever; maybe even your life.
Register NOW before the early bird tickets run out.
About:
This convention is the premier crowdfunding convention anywhere in the world. Produced by Ruth Hedges, one of the original pioneers of the legislation which ultimately became Title lll-Crowdfunding signed into law in the JOBSAct on April 5th 2012. Hedges was honored with an invitation to the White House for its Crowdfunding Champions of Change event.
Hedges is also one of the original cofounding Board Members of (CFIRA), and CEO of http://crowdU.com, the nation's first crowdfunding college.
Hedges is also CEO of http://Crowdfundingroadmap.com, an innovative SaaS platform for businesses to use in preparing to raise capital via exemptions pursuant to the JOBS Act. As an industry expert, she has been interviewed or quoted in over 40 major publications, and was selected to teach the first university-level course on securities based crowdfunding in the country at UNLV.