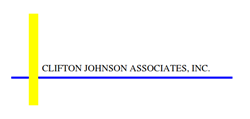 Over the years, our success has been driven by the fact that most everyone we have had the privilege to deal with has found us to be easy to work with, honest, ethical, and, above all … WE PRODUCE.
Pittsburgh, PA (PRWEB) March 19, 2014
After 45 years in business, Clifton Johnson Associates, Inc. is still innovating and adapting to best meet the needs of its clients to ensure another 45 years of success.
Clifton Johnson Associates, an award-winning national Executive Recruiting firm based in Pittsburgh, opened in 1969. In a business that is notoriously tough, President and Founder Cliff Johnson says they have remained successful thanks to a combination of hard work, ethics, innovation, and client satisfaction, as well as a little luck along the way.
That success is derived from the efforts of the many individuals who have been and are members of the firm's team. This includes Clifton J. Johnson, President and Founder; Steve Silianoff, Vice President and Executive Recruiter, who is celebrating 32 years with the firm; and Cliff's son, Clay Johnson, Executive Vice President and Executive Recruiter. Clay Johnson has been with the firm for 17 years, and will eventually take over the reins.
"Over the years, our success has been driven by the fact that almost everyone with whom we have had the privilege to serve has found us to be easy to work with, honest, ethical, and, above all … WE PRODUCE. Our ability to deliver the results, hoped for and expected, is something we are very proud of," Clifton Johnson said.
The firm has adapted to a number of changes in the recruiting industry over the past four-plus decades. Most notably is the way computers and the Internet have increased the speed of the recruiting process and in some ways, reduced the personal interaction in many recruiting activities and services. While Clifton Johnson Associates has been computerized for 34 years, they still offer and value the personal relationships in this very personal business.
"With technology, it seems like the personal aspects of the business are eroding more every day," Johnson said. "It has been our stance to try to keep this aspect in our business."
The corporate executive offices are equipped with the most up-to-date technology and systems. The firm, headquartered at One Monroeville Center in Pittsburgh, also has a satellite location in southwestern Florida to help serve their customers nationally.
Cliff Johnson has also noticed major changes in the firm's niche, which has always been in all facets of Engineering and Manufacturing. He feels that Engineering, in particular, has become much more specialized in recent years, requiring a much more in-depth interviewing and screening process.
"We have an advantage there," Clifton Johnson said. "Because we've been computerized for so long, we have built a database of detailed resumes, representing over 600,000 engineers registered with us. That certainly doesn't mean that we have 600,000 engineers that will qualify for every search. However, our database has a powerful search engine that allows us to find engineers based on very specific requirements. Without writing an ad or posting to a job board, we can immediately get on the phone with five or six people who have an exact skill the client is looking for. Even if those individuals don't meet all the other job requirements, they can refer us to others who may. We can immediately get into the search, and that is a huge advantage to both us and our clients."
As the firm looks to the future, Johnson sees the opportunity to adapt again by expanding the firm's contract staffing services. In this uncertain economy, Johnson is noticing that clients are reluctant to commit to direct hires and are increasingly turning to contractors to handle their business needs. The firm places its contractors through the back-office services of Top Echelon Contracting, Inc., which becomes the legal employer of Clifton Johnson Associates' contractors. As such, they handle all the legal, financial, and administrative aspects of the contract placements while Clifton Johnson Associates continues to handle all of the recruiting tasks and works directly with their clients.
"Our intention is certainly to continue to offer the best service in executive search and direct recruiting, but in addition, we plan to ramp up our activity on the contract side of the business," Clifton Johnson said. "Our clients certainly have the ability to read the marketplace. When the decision is made to hire contractors instead of the long-term commitment of direct hire, it would be foolish of us to sit on the sidelines and not address the needs our clients have today. With our deep contacts and national recruiting history, we can and will produce.
"We are looking forward to another successful 45 years. It is a comfort to know, that under Clay's direction and Steve's continual senior executive support, our legacy of honesty, integrity and ability to provide high quality executive searches and employment solutions to meet our customer's needs, will be preserved. We are thankful that our firm is currently thriving and will continue to grow."