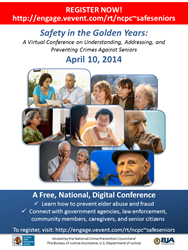 Arlington, VA (PRWEB) March 13, 2014
Each year, 10 percent of older Americans in this country experience some form of abuse. Many times it goes unreported, and too often, the abuse is committed by people they trust and depend upon. Seniors are hit, humiliated, denied the care they need, and swindled out of life savings.
Join the National Crime Prevention Council (NCPC), the Bureau of Justice Assistance (BJA), and various senior advocacy and criminal justice experts on April 10, 2014, for a free, day-long, online event to learn how to spot the warning signs of elder abuse and financial fraud, and how to combat these heinous crimes. This event is available to the public, and seniors, seniors' caregivers, law enforcement, social services, adult protective services, and people with elderly relatives are highly encouraged to attend. Those who wish to attend can register here: http://engage.vevent.com/rt/ncpc~safeseniors, and log in from any computer with Internet access the day of the conference.
The event, NCPC and BJA's second virtual conference together, will feature a series of six real-time presentations in a completely interactive, online environment. Attendees can ask questions of presenters, interact with one another within the environment, collect free multimedia resources, and visit exhibit booths to talk with booth representatives. In addition to the six live sessions, the conference offers attendees three pre-recorded presentations from which to choose during the lunch hour. All sessions and resources will be available on demand to the public for three months after the date of the conference.
Noteworthy speakers of the opening plenary session include:
• Ann Harkins, president and CEO, National Crime Prevention Council
• Karol Mason, assistant attorney general, Office of Justice Programs, U.S. Department of Justice
• Julie McEvoy, deputy associate attorney general, U.S. Department of Justice
Additional esteemed speakers will represent the following organizations:
• U.S. Department of Justice
- National Institute of Justice
- Office for Victims of Crime
- Office on Violence Against Women
• U.S. Department of Health and Human Services
- Administration on Aging
- National Center on Elder Abuse
• FINRA Investor Education Foundation
• Federal Trade Commission
• Executive Office of Elder Affairs (MA)
• National Committee for the Prevention of Elder Abuse
• National Center for Victims of Crime
• District Attorney's Office (San Diego, CA)
• Lifespan of Greater Rochester
• University of Pittsburgh
• Azusa Pacific University
• Fairfield Police Department (CT)
• Lee County Sheriff's Office (FL)
About the National Crime Prevention Council
The National Crime Prevention Council is the nonprofit leader in crime prevention. For more than 30 years, our symbol of safety, McGruff the Crime Dog®, has delivered easy-to-use crime prevention tips that protect what matters most—you, your family, and your community. Since 1982, NCPC has continuously provided the American public with comprehensive educational materials, training programs, and effective crime prevention messaging, delivered in large part through its vast network of more than 6,000 state and local law enforcement agencies, crime prevention associations, community groups, foundations, and corporate partners. For more information on how NCPC can be a public safety expert for you or how to "Take A Bite Out Of Crime®," visit http://www.ncpc.org.
Become a fan of NCPC: Friend us on Facebook | Follow us on Twitter | Find us on YouTube
###