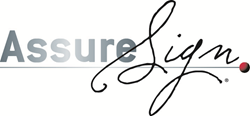 The IRS's acceptance of electronic signatures for tax documents is a huge advancement for the organization as well as tax payers, and a sign of widespread progression towards the adoption of electronic signatures.
Orlando, FL (PRWEB) March 14, 2014
AssureSign LLC, the industry-leading provider of electronic signature software, fully supports the recent announcement by the Internal Revenue Service that, effective March 11, 2014, it now accepts electronic signatures on Forms 8878 and 8879.
As a member of the Electronic Signature & Records Association (ESRA), AssureSign was a contributor in guiding this development. ESRA was invited to participate and lead an eSignRecords Information Panel for senior IRS agency leadership in May 2012. In May 2013, ESRA provided feedback in response to Internal Revenue Bulletin (IRB) 2013-4, Announcement 2013-8 Acceptable e-signature Standards Recommendations.
AssureSign champions customers and partners in this new initiative, providing an all-encompassing solution, meeting all stated requirements. AssureSign's electronic signature software solution employs knowledge based authentication (KBA) to meet stated IRS requirements, including:

Recording information including:
o Digital image of the signed form;
o Date and time of the signature;
o Taxpayer's computer IP address;
o Taxpayer's login identification - user name;
o Identity verification: taxpayer's knowledge based authentication passed results and for in person transactions, confirmation that government picture identification has been verified;
o Method used to sign the record, (e.g., typed name); or a system log; or other audit trail that reflects the completion of the electronic signature process by the signer.

Identity Verification Requirements
o Must be associated with a person, and accordingly, ensuring the validity of any electronically signed record begins with identification and authentication of the taxpayer.
o Must be able to generate evidence of the person the electronic form of signature belongs to, as well as generate evidence that the identified person is actually associated with the electronic record.
o If there is more than one taxpayer for the electronic record, the process must be designed to separately identify and authenticate each taxpayer.
o The identity verification requirements must be in accordance with National Institute of Standards and Technology, Special Publication 800-63, Electronic Authentication Guideline, Level 2 assurance level and knowledge based authentication or higher assurance level.

Electronic signatures must be linked to their respective electronic records to ensure that they cannot be excised, copied or otherwise transferred to falsify an electronic record, and must be tamper-proof; techniques must be employed that lock a document and prevent it from being modified.
Storage systems must have secure access control to ensure that the electronic records cannot be modified, and contain a retrieval system that includes an indexing system, and the ability to reproduce legible and readable hard copies of electronically stored records.
"The IRS's acceptance of electronic signatures for tax documents is a huge advancement for the organization as well as tax payers, and a sign of widespread progression towards the adoption of electronic signatures," said David W. Brinkman, president and chief executive officer of AssureSign. "AssureSign is proud to have participated in the process of accelerating IRS adoption of electronic signatures on behalf of our customers and partners."
About AssureSign LLC
AssureSign LLC is a Silver Depth Managed Microsoft Partner and a leading provider of web-based and on-premise electronic signature software, enabling users to obtain written authorizations on any document, anywhere, at any time. AssureSign is a highly secure and flexible "cloud computing" application, and the only e-signature provider with a five year track record of providing customers with 99.99%. Using the standards-based DocumentNOW® and DocumentTRAK™ integration tools, AssureSign can easily integrate with existing business processes within any enterprise, regardless of size. AssureSign's experience extends over 12 years and comprises more than 190 million unique signature events. AssureSign customers consistently experience dramatic cost savings, as well as significant reduction in the time to execute documents. For more information visit http://www.assuresign.com or follow AssureSign on Twitter at twitter.com/assuresign.
###