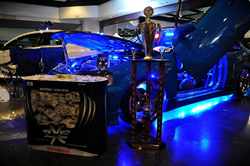 Hillsboro, N.H. (PRWEB) March 14, 2014
SYLVANIA Automotive Lighting will shine during this year's Hot Import Nights season and serve as the presenting sponsor of HIN events for the third consecutive year. HIN – featuring import, sport, compact and exotic cars – is the largest consumer car show tour featuring highly modified import, sport compact, European and exotic cars.
SYLVANIA Automotive Lighting will again host the popular Hottest Lighting Contest at each event, where judges will select three winning vehicles based on their unique lighting modifications. The first place winner will take home a $1,500 prize with second and third taking home cash prizes of $500 and $250 respectively. The contest is open to anyone with a vehicle on display at each HIN tour stop.
New this year, SYLVANIA Automotive Lighting unveils its SYLVANIA ZEVO Zone, which will introduce HIN enthusiasts and fans to its newest line of aftermarket lighting technology, SYLVANIA ZEVO™ Automotive LED Lighting. HIN-goers will see how the product enhances a retrofitted Scion FR-S, 1967 Mustang and 1972 Gremlin.
"We are eager to unveil the SYLVANIA ZEVO Zone at Hot Import Nights," said Brian Noble, marketing manager, SYLVANIA Automotive Lighting. "Our goal is to take the collaboration with HIN a step further by interacting more with vehicle owners and lighting enthusiasts. There will be live demos of ZEVO and SilverStar® zXe™ product lines so people can see the product in action and provide raw feedback on our technologies. It's going to be an exciting year."
SYLVANIA ZEVO Zones at select events will also feature an installation showcase between two vehicles chosen, with the winner receiving $250 cash. The HIN audience can vote for their favorite vehicle through text message and a team of judges will make the final decision.
The SYLVANIA ZEVO Automotive LED Lighting line has ushered in a new era of vehicle lighting. Recent advancements in LED technologies have allowed the ZEVO LED line to match the brightness and whiteness of original equipment LED products seen on high-end vehicles, while meeting street legal requirements. SYLVANIA ZEVO products include a unique fog daytime running light (DRL), 7-inch round (H6024 replacement) sealed beam retrofits, DRL pipe and pixel designs that do not need a switch, retrofit dome, map and license plate applications, and an LED strip kit suited for interior applications. SYLVANIA ZEVO Automotive LED Lighting compliments the already successful SilverStar® zXe headlights, the whitest color temperature product in the SilverStar® High Performance Series lineup, giving enthusiasts the style and attitude of HID.
"Hot Import Nights is thrilled that SYLVANIA Automotive Lighting is returning this year with stylish new lighting products," said Michael Munar, co-founder and CEO of HIN. "Our events are all about showcasing unique modifications and bringing passionate car enthusiasts together. A vehicle's lighting is a huge part of customization and no one can show how lighting can really change the mood of a custom car better than the SYLVANIA team."
Visit http://www.sylvania.com/auto for more information about SYLVANIA Automotive Lighting products and like us on http://www.facebook.com/SylvaniaAutomotive to see pictures from HIN events and to follow along on the tour.
SYLVANIA's 2014 HIN tour stops are Houston, Texas on March 15; Honolulu, Hawaii on March 29; Orlando, Fla. May 17; Santa Clara, Calif. on June 28; Worcester, Mass. on June 28; Tacoma, Wash. on July 26; Loudon, N.H. Aug. 2; Dallas, Texas on Aug. 23; New York, N.Y. on August 30; Phoenix, Ariz. on Sept. 13; Minneapolis, Minn. on Oct. 4; Honolulu, Hawaii on Dec. 13 and Jacksonville, Fla. on Dec. 20. For a full HIN schedule and more information, visit http://www.hotimportnights.com.
About OSRAM SYLVANIA Automotive Lighting
OSRAM SYLVANIA, together with OSRAM AG, is the world leader in automotive lighting for original equipment manufacturers (OEMs) and the aftermarket. The company's global automotive lighting division has its principal North American operations in Hillsboro, N.H., with nearly 600 employees. In addition to TS 16949, this facility has also achieved ISO 9001 and 14001 certifications. Automotive Lighting designs, develops, manufactures and markets state-of-the-art automotive light sources, including auxiliary, advanced halogen, LED and high-intensity discharge lighting for interior, exterior and forward lighting applications. More than 400 lamp types are produced for cars, trucks, and electronics in facilities throughout the U.S., Europe, and Asia. Automotive applications for OEMs are marketed under the OSRAM brand while products for the aftermarket are sold under the SYLVANIA brand.
About OSRAM SYLVANIA
OSRAM SYLVANIA is a leader in lighting solutions and services, specializing in innovative design and energy saving technology. The company sells products for homes, businesses and vehicles primarily under the SYLVANIA brand name, and also under the OSRAM brand. Headquartered in Danvers, Mass., OSRAM SYLVANIA is the North American operation of OSRAM AG, a wholly owned subsidiary of Siemens AG. For more information, visit http://www.sylvania.com or follow us on Facebook and Twitter.
OSRAM is a registered trademark of OSRAM GmbH.
SYLVANIA is a registered trademark of OSRAM SYLVANIA Inc.
All other trademarks are those of their respective owners.
###